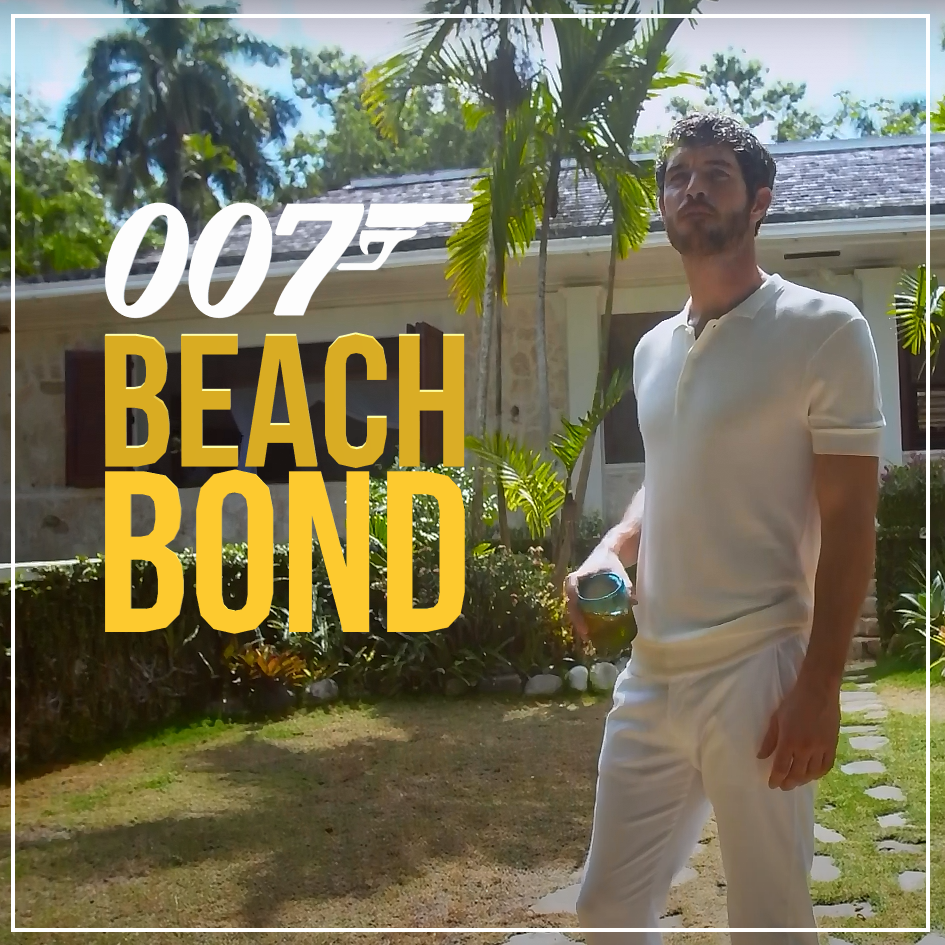 A salmon pink look for Japan, a tailored fit pair of trousers for a Jamaican jaunt, a pair of 1981 shorts soaked by the sea, a Bahamian gingham shirt, mid-'60s swim wear with bullet tassles, a Harrington mod jacket classic and a Portuguese linen ensemble from 1969… the history of Bond movies has also always been the history of men's fashion. Often the envy-making wish-list of many a movie fan aware of their 007 costume design accessories, tailoring, style and excess the Jamaican tailored fit sky-blue trousers from 1962's Dr. No, a salmon pink shirt from 1967's You Only Live Twice, Roger Moore's swim shorts from 1981's For Your Eyes Only or the mid-century beach wear from 1965's Thunderball have been a look many film and Bond fans the world over have quietly emulated when jet-setting to their beaches and garden parties. However, apart from perhaps some office party 007 excess and near-match lookalikes, most Bond fans were kept at a tailored arm's length from adding these to the wardrobe. But unlike Roger Moore's mod jackets, George Lazenby's linen and Sean Connery's early penchant for short shorts when in the hottest climes, those clothing dreams are no longer a thing of the past.

In collaboration with men's clothing line Orlebar Brown and EON Productions comes a third dreamy array of 007 sartorial greatness, retro cuts, vintage seams, resort shirts, jet-set stitching, Med nostalgia and pure Bond fantasy costuming. Launched in June 2020, this new cast list of clothing is on a limited collection status, but readily available for the summer season and beyond. Each piece is invested with the history, locations and swagger of a vintage era of Bond stretching from Dr. No through to Octopussy. This newest, wider 007 collection inspired by the golden age of Bond travel and the first twenty-one movie bullets is a cool, heritage-savvy and decidedly envy-making array of spy-shaped togs. Sixteen new pieces of clothing make up the 007 Heritage Collection – and now join the first wave of 007 Bulldog swim shorts launched by OB in the summer of 2018 and the 007 Capsule Collection from the Summer 2019. And whilst some of the price tags are worthy of a real Goldfinger (though these new wave of pieces do appear to be a little more affordable than before), this new cast list of official 007 Heritage Collection clothing is beyond delicious, cannily inspired, slickly produced and worth every Moneypenny.
Bond and Orlebar Brown is an apt marriage. In a 2018 interview the company's CEO Adam Brown suggested how "a picture of Sean Connery in baby blue towelling in some of the beach scenes were on the original mood boards when I first had the idea for Orlebar Brown". The cut, poise and sense of Bond's '60s jet-age glamour is all over OB's swim wear, shirts and accessories. The cut and hues of their beach wear is often pinned to a '60s Miami-bound ethic – with short hems, flat panels and bold beach boy colouring. And this is not just an 'inspired by' collaboration. Daniel Craig famously wore Orlebar Brown's Setter Sky blue shorts for 2012's Skyfall. OB already has its own history with 007. Like the Bond series itself, there is both a wilful playfulness, sense of luxury, one eye on the past and contemporary style to Orlebar Brown. The sixteen new pieces are aspirational on many levels – and coyly both cool and kitsch. Simple lines, Caribbean pastels, 1970s short-shorts thinking (so 2020!), decade-defining leisure wear and a sense of movie fun define these new lines.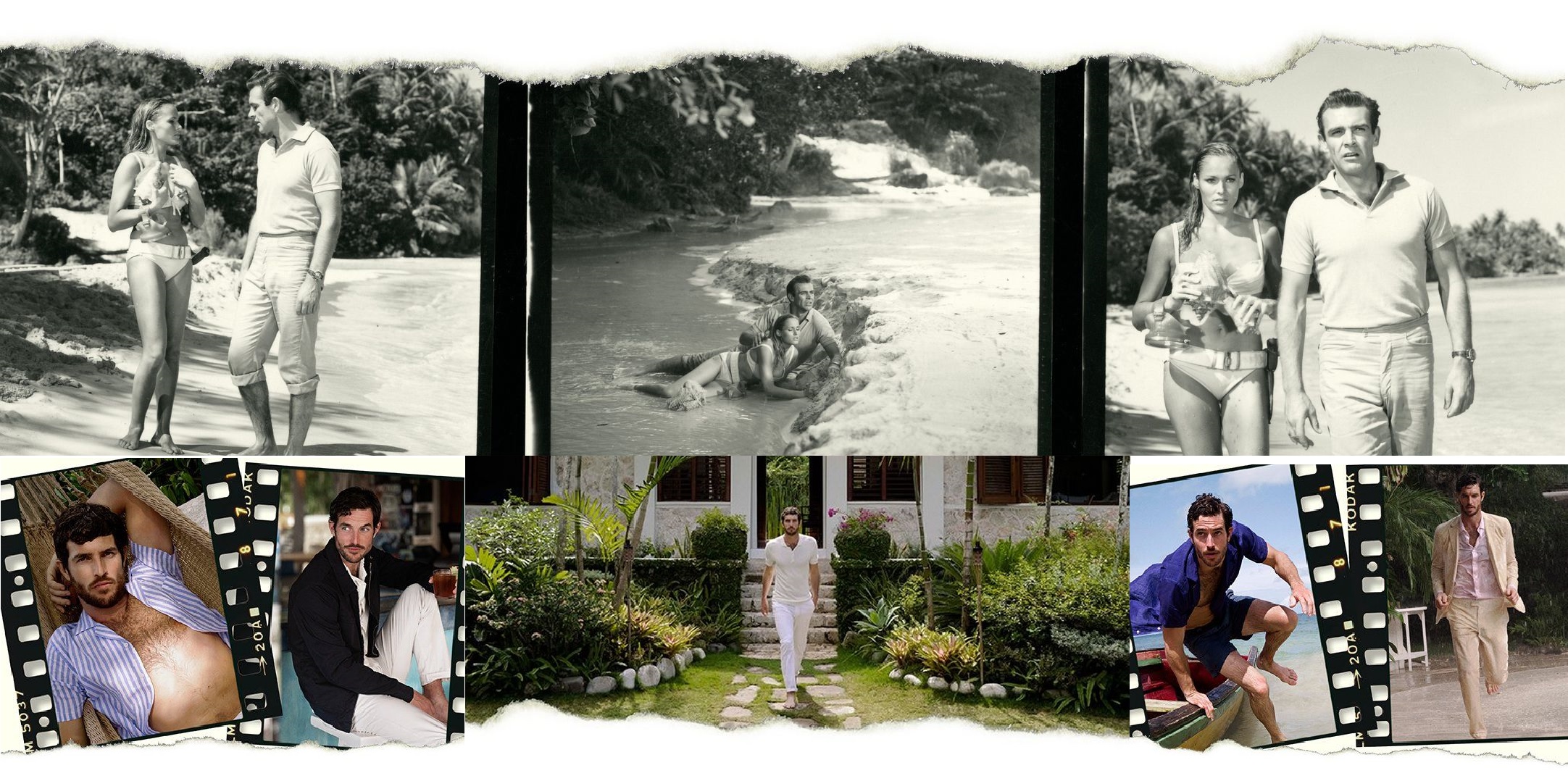 THE NAME'S BOND. JAMES BOND.
Framed by the summer leanings of OB with a definite leaning towards the Bond-mania togs of 1965's Thunderball (one of the drives of the 2019 Capsule Collection), a fresh awareness that the cuts and specs of the male physique have possibly changed since 1962 and some apt-timings to kill time before No Time to Die kicks off with Daniel Craig's 007 relaxing in Jamaica and all the movie, literary and sun-drenched finery that alludes to, the 007 Heritage Collection is available from June 2020. This is not fancy dress Bond. This is not camp Bond for the office party. These new pieces are wholly contemporary and designed and cut with 2020 and its shark-flecked beaches in mind. These designs are also not 100% allayed to 007. They have a life away from the filmic fantasy. Okay, the One Her Majety's Secret Service vintage linen two-piece and Roger's shirt from The Man with the Golden Gun is nothing but retro bold in the best way possible. And that updating is achieved by re-shaping and re-cutting those cinematically iconic looks. OB's eye is on both today and Bond, but also current sartorial pulls, deliberately tight tailoring, the rise again of short shorts and a '60s Bond mania awareness of colours, seams, lighting and luxury. The collection has been photographed by Bond photographer Greg Williams, utilising the Paul Newman swagger of top model Justice Joslin and an altogether No Time to Die steered backdrop location – Ian Fleming's 'Goldeneye' estate in Jamaica and its surrounding locales, waters and verandas…
Having asked Mary Goodnight to step aside, this bullet catcher has opened the wardrobe for a look…
THUNDERBALL LINEN SHIRT

007 Blueprint Capri Collar Shirt / £195

This men's shirt in Italian-woven saturated blue linen fastens with imitation mother of pearl branded buttons. Featuring a Capri collar, it brings the style worn by Bond in 1965's Thunderball back for modern-day resort wear.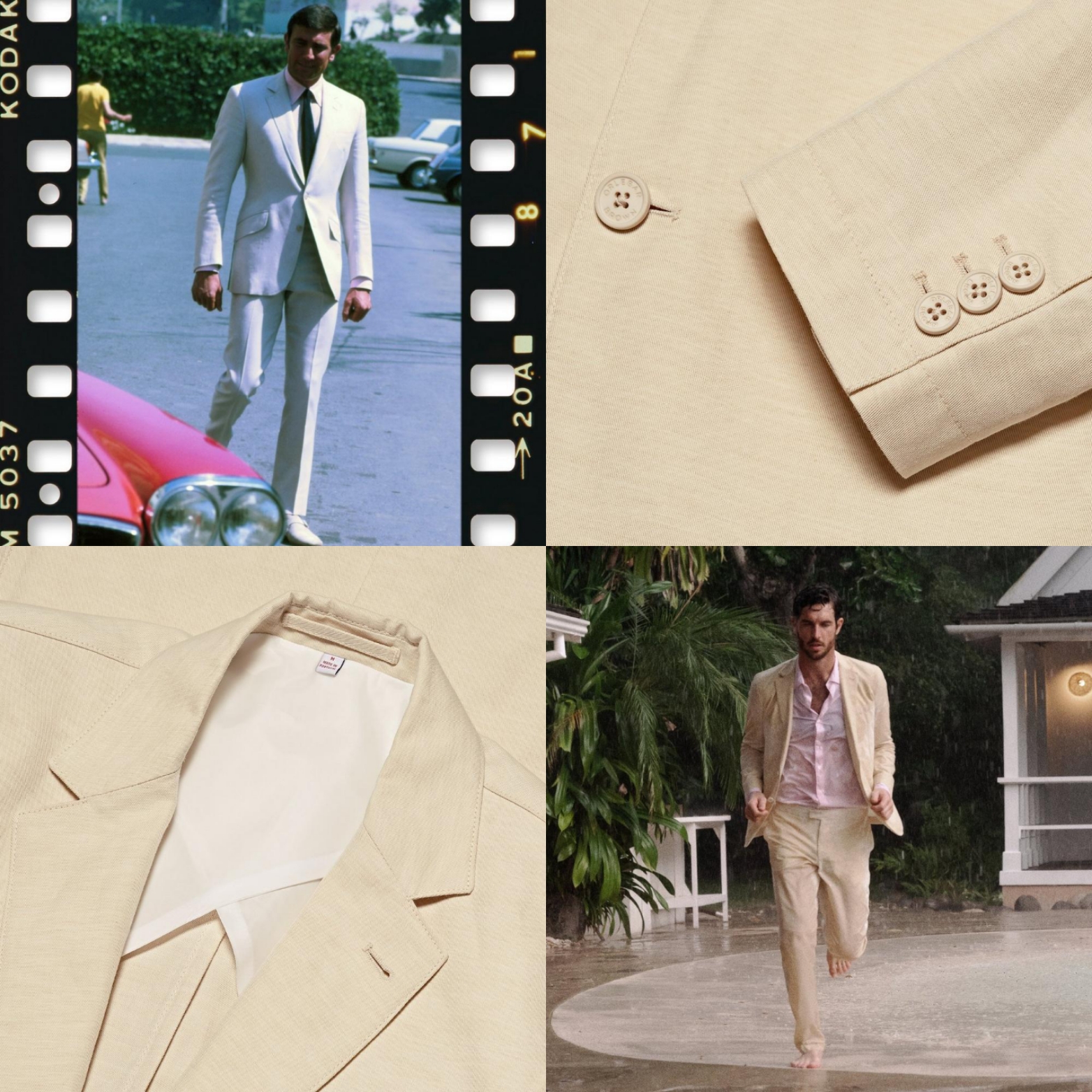 BOND LINEN JACKET 

007 Matchstick Linen Blazer  / £345

Inspired by the cream suit worn by Bond in On Her Majesty's Secret Service (1969), this refined linen-cotton blazer should be worn with the coordinating trousers to sharpen up a warm weather style for formal occasions.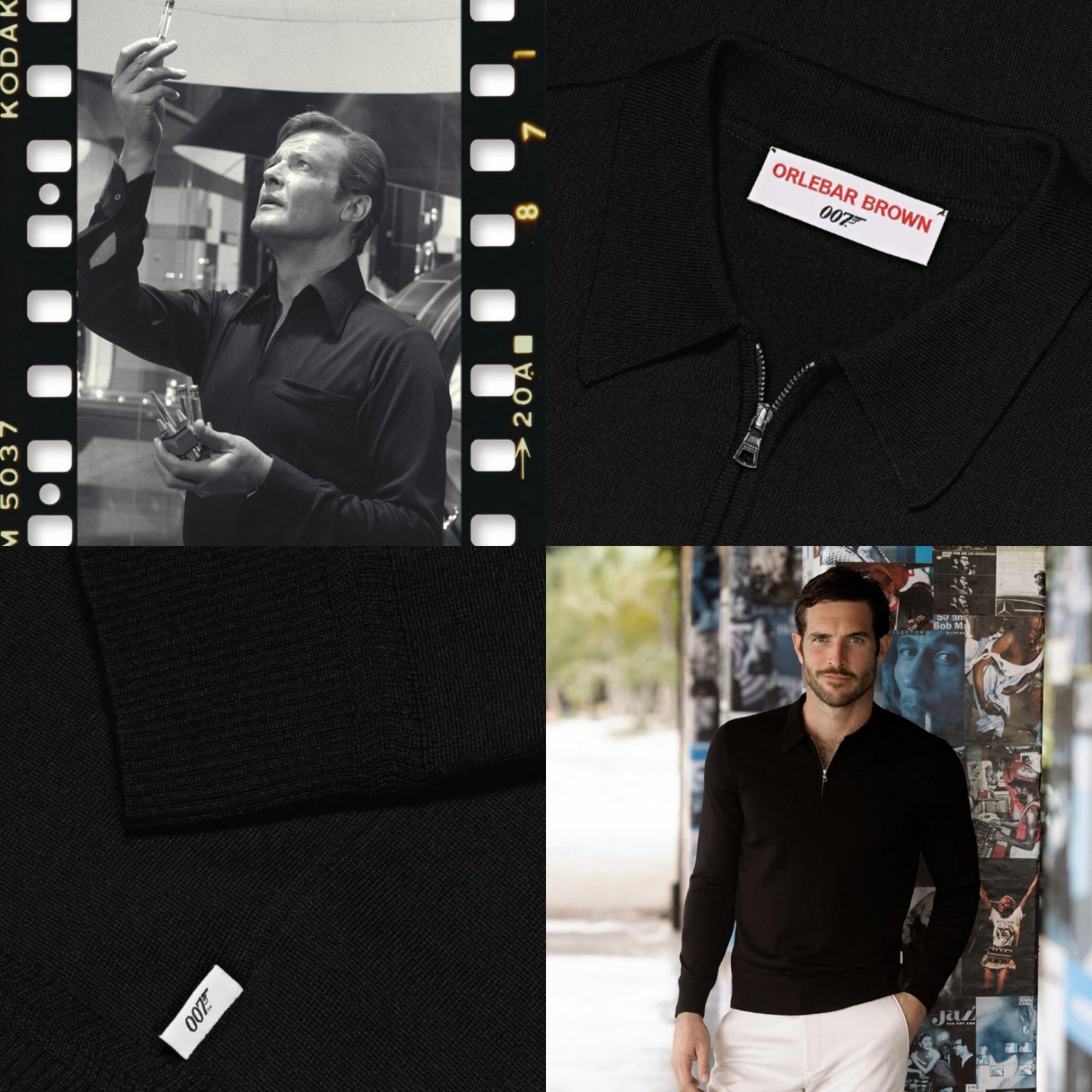 MOONRAKER KNITTED HALF ZIP

007 Merino Knitted Half-Zip Pullover / £295

The black knit shirt Bond wore in Moonraker (1979) with an Italian-made Merino wool iteration with half-zip placket and chevron detail.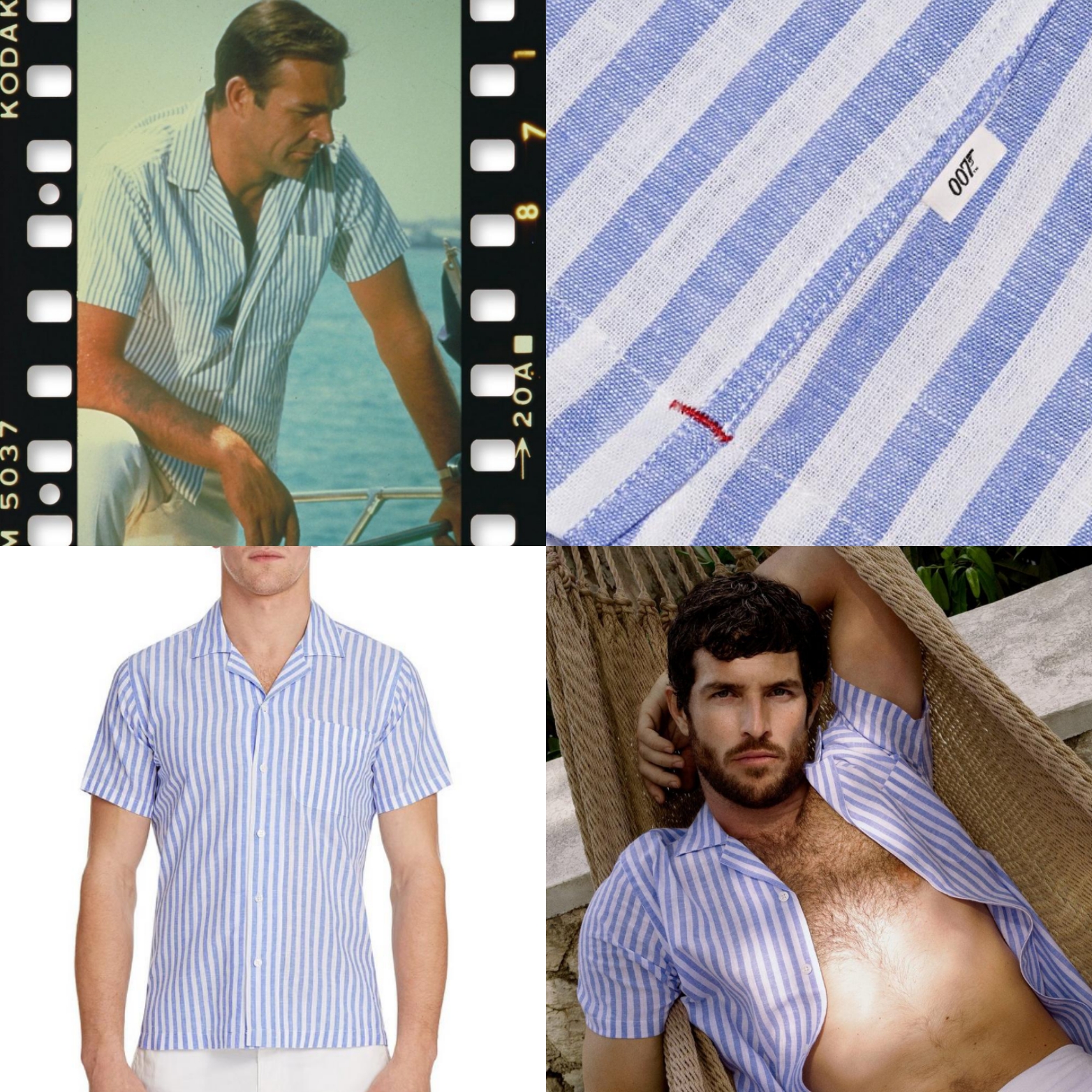 THUNDERBALL STRIPE SHIRT

007 Riviera/White Capri Collar Shirt  / £195

Worn aboard a helicopter with Felix Leiter while searching for Vulcan and later during his visit to Largo's Palmyra estate in Thunderball (1965) with an expertly tailored silhouette and Capri collar in Spanish cotton.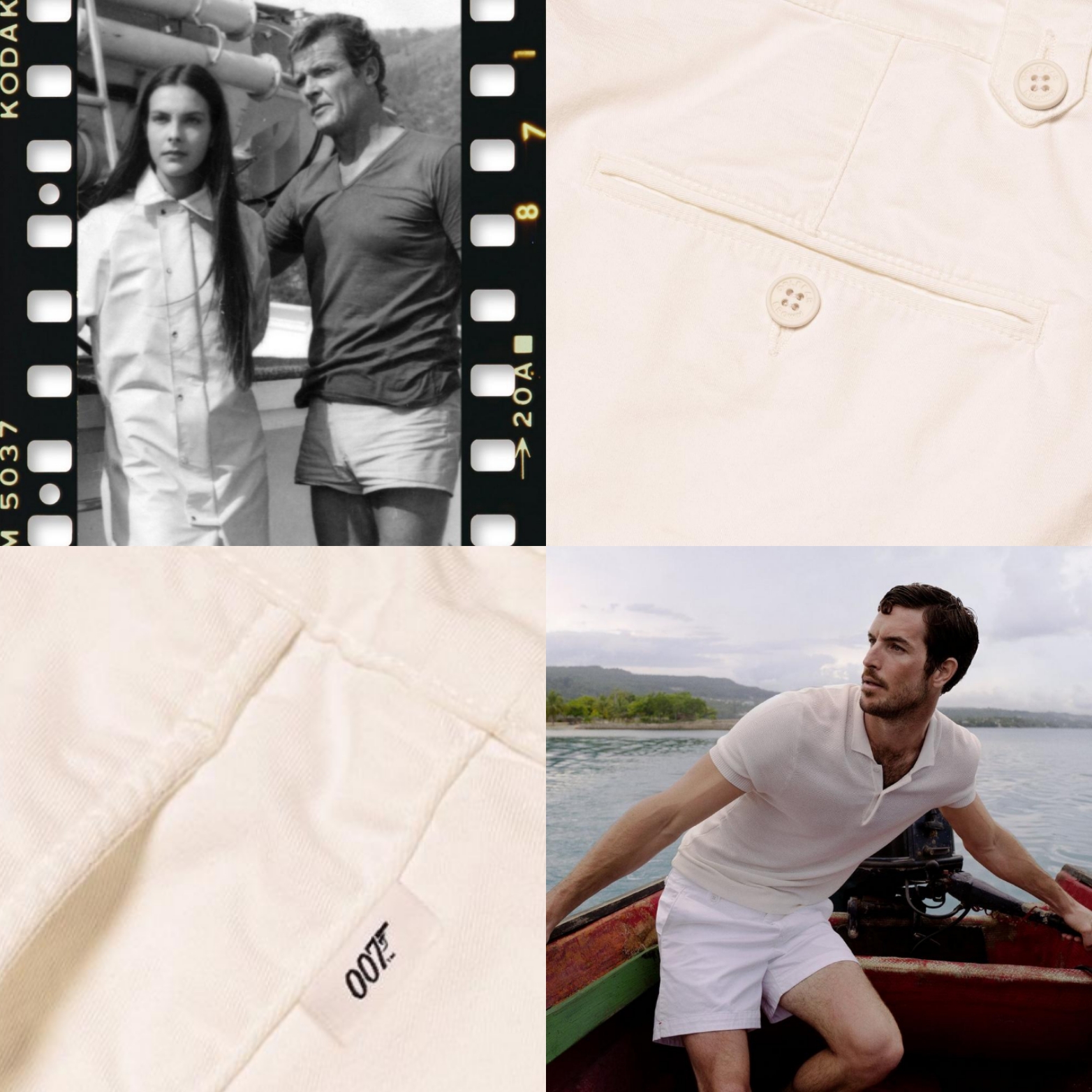 FOR YOUR EYES ONLY SHORTS

007 Ivory Day Shorts / £195

These men's ivory day shorts in cotton-linen blend fabric have pared-back design and can be casually styled with a cotton tee or smartened up with a linen shirt.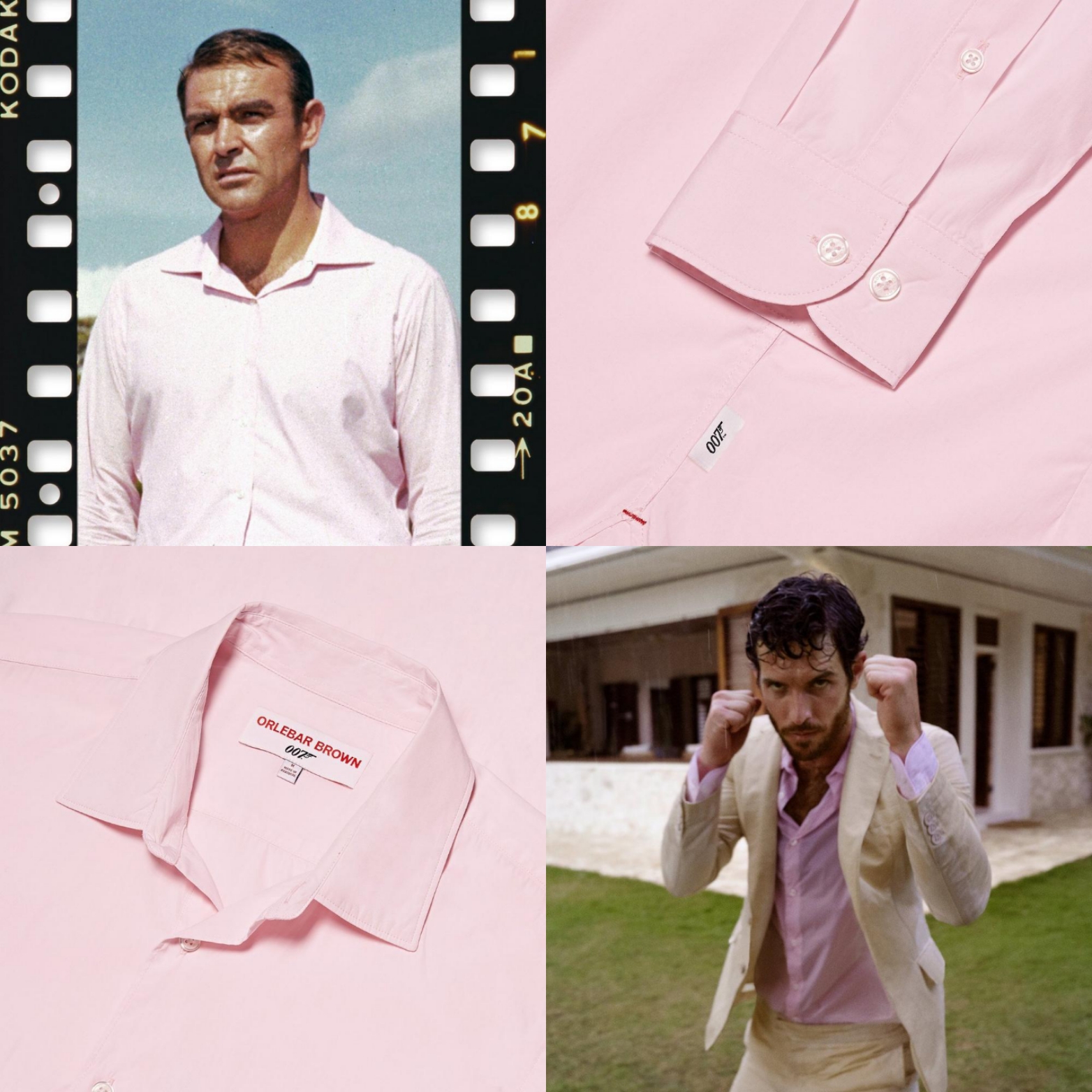 YOU ONLY LIVE TWICE SHIRT

007 Rosebud Poplin Classic Collar Shirt / £195

An Italian linen shirt in a whisper pink shade of Rosebud, inspired by James Bond's version in You Only Live Twice (1967).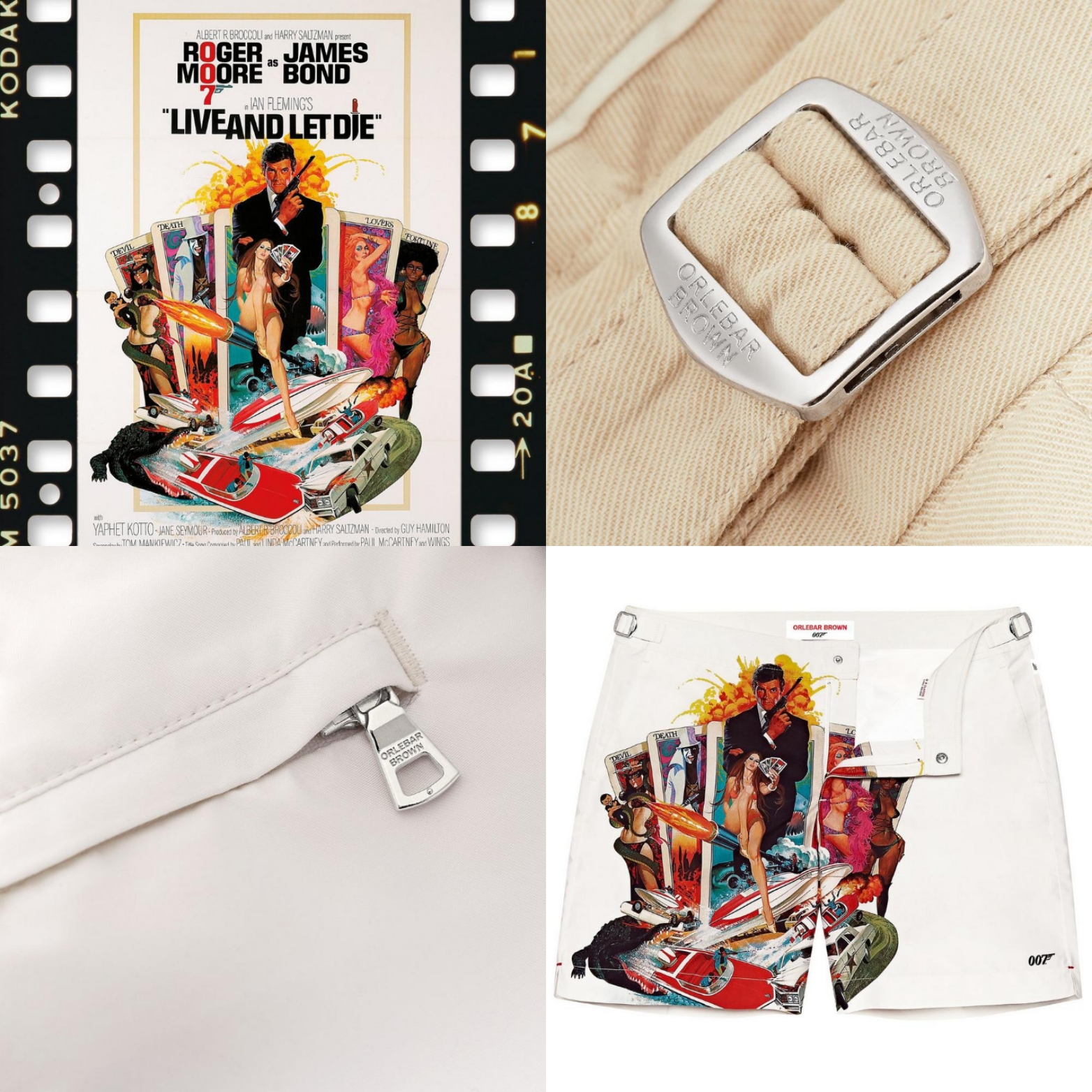 BULLDOG

Live And Let Die Mid-Length Swim Shorts / £245

White Bulldog swim shorts featuring a 1973 illustration depicting James Bond in Live And Let Die by Robert McGinnis. Based on the pattern of a man's traditional tailored trouser with signature side-fasteners to adjust and crafted from fabric that dries quickly, the OB Classic Bulldog offers the perfect blend of form and function.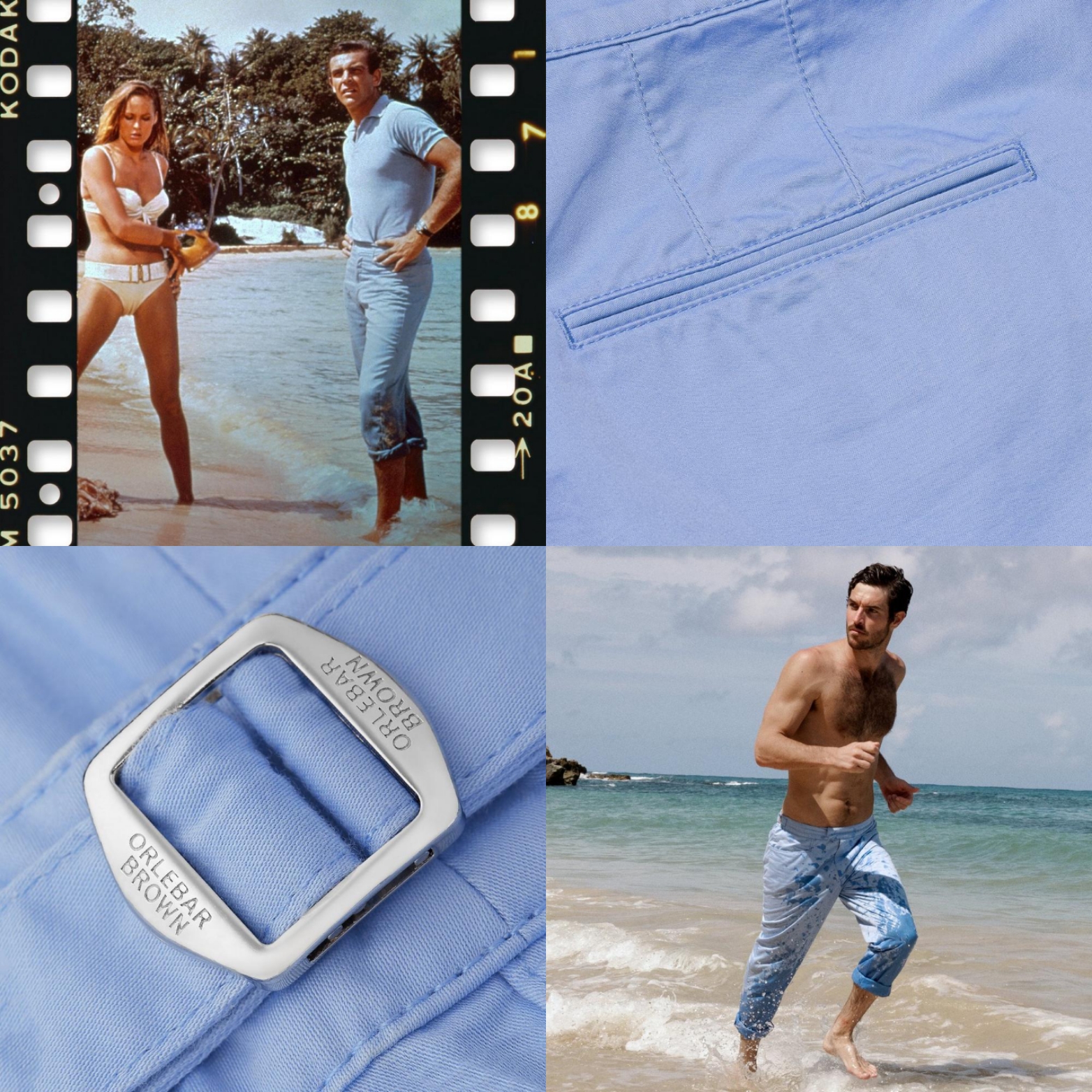 DR. NO TROUSERS

007 Riviera Tailored Fit Trousers / £245

Take styling inspiration from James Bond on Crab Key island in Dr. No (1962) by rolling up these Riviera blue cotton trousers when you're on the beach.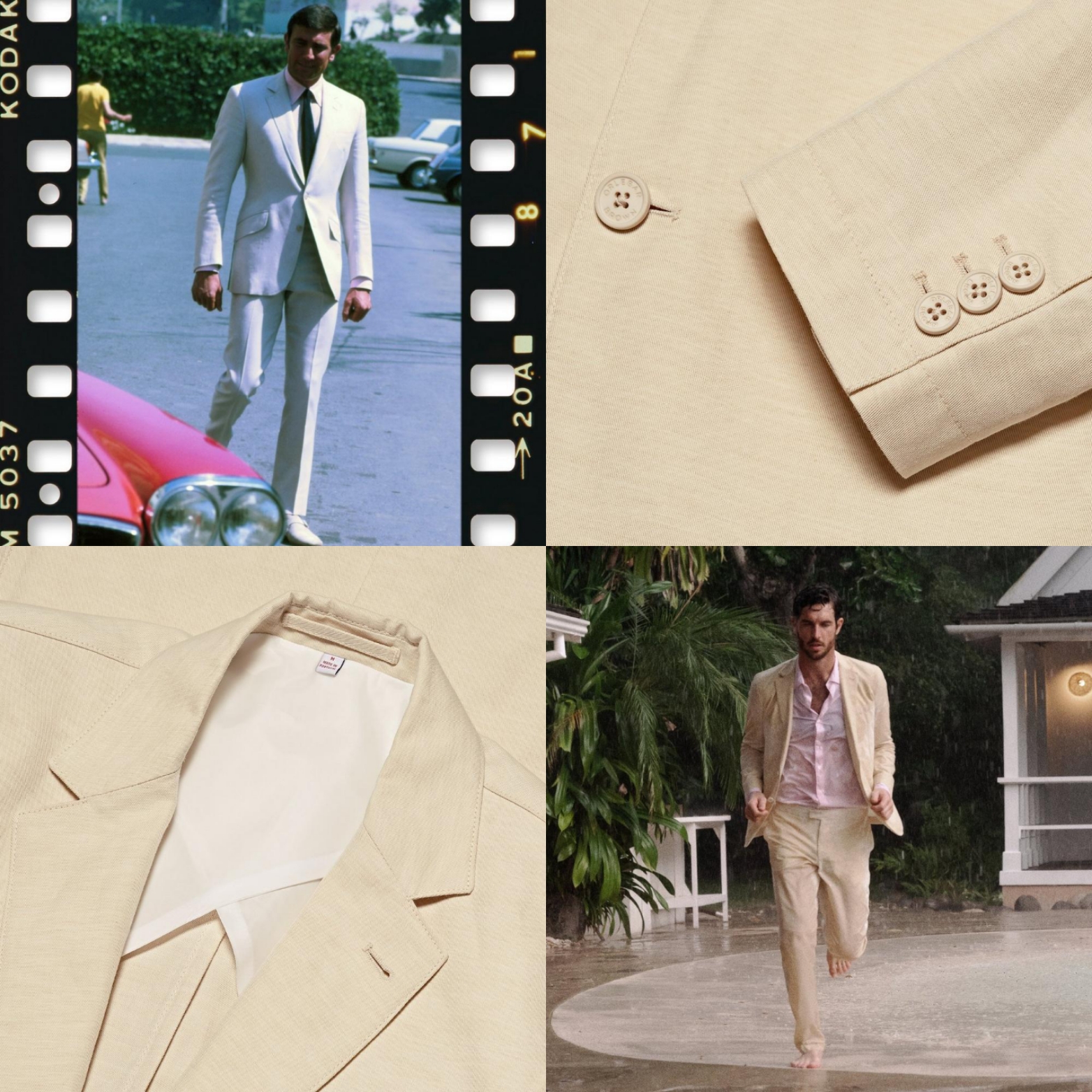 BOND LINEN TROUSER

007 Matchstick Tailored Fit Linen Trousers / £245

As Bond demonstrates in On Her Majesty's Secret Service (1969), a cream suit is the epitome of summer tailoring.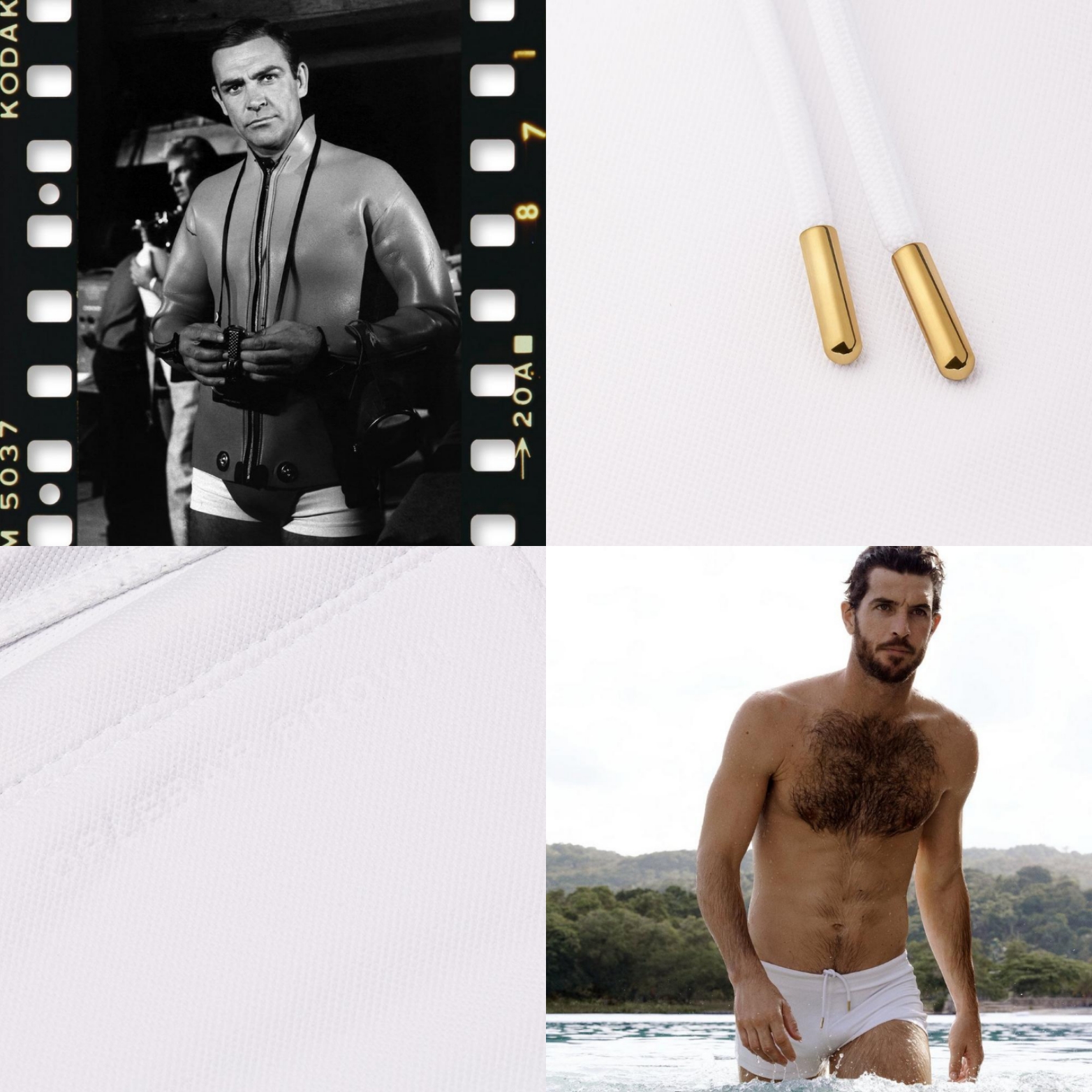 THUNDERBALL BASSETT

007 White Classic Swim Trunk  / £95

A similarly form-fitting style to these white swim trunks was worn by Bond in Thunderball (1965).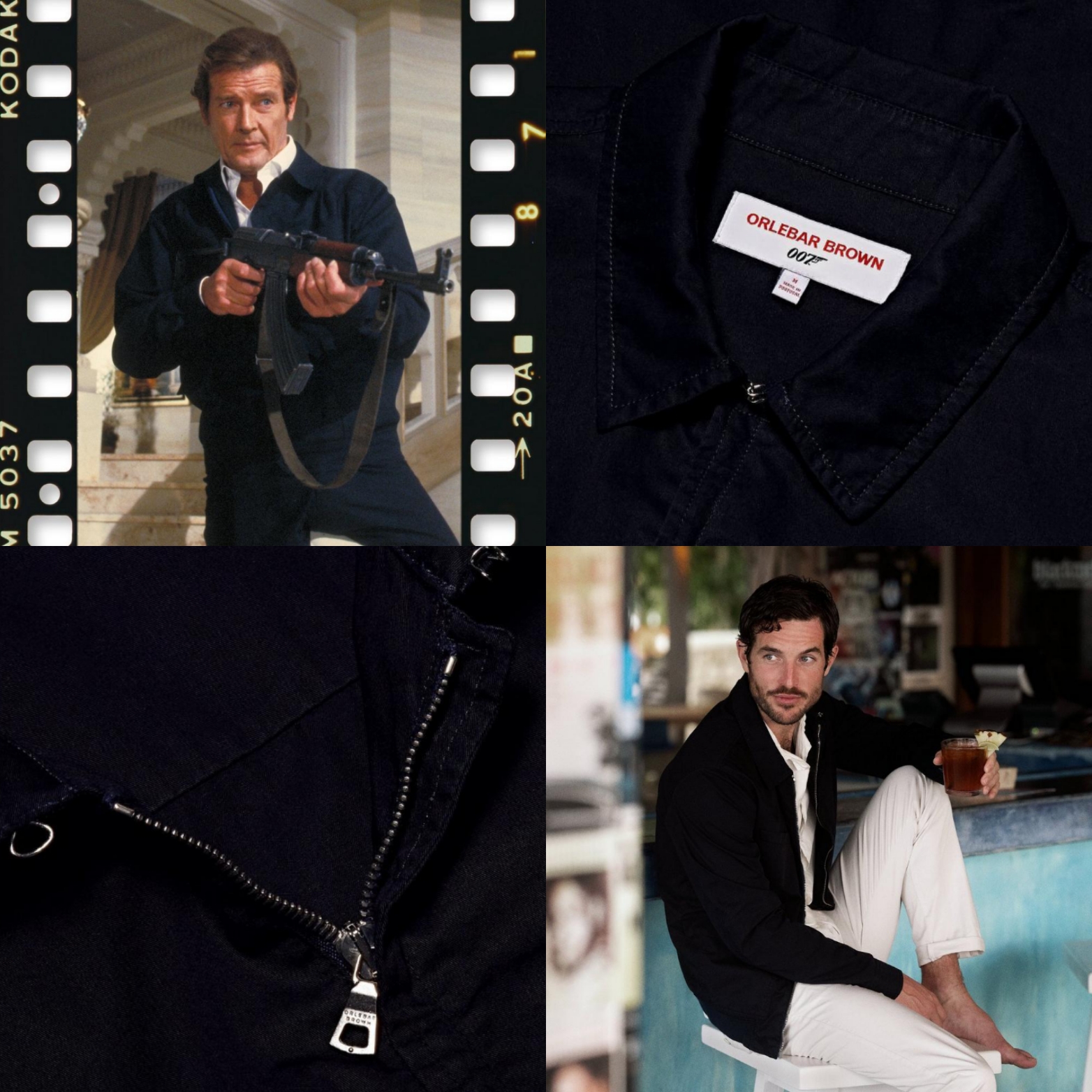 OCTOPUSSY HARRINGTON

007 Midnight Harrington Jacket / £345

Bond's blouson jacket, worn during his assault on Kamal Khan's palace in Octopussy (1983), using Midnight blue garment-dyed cotton for this classic fit Harrington style with corozo buttons.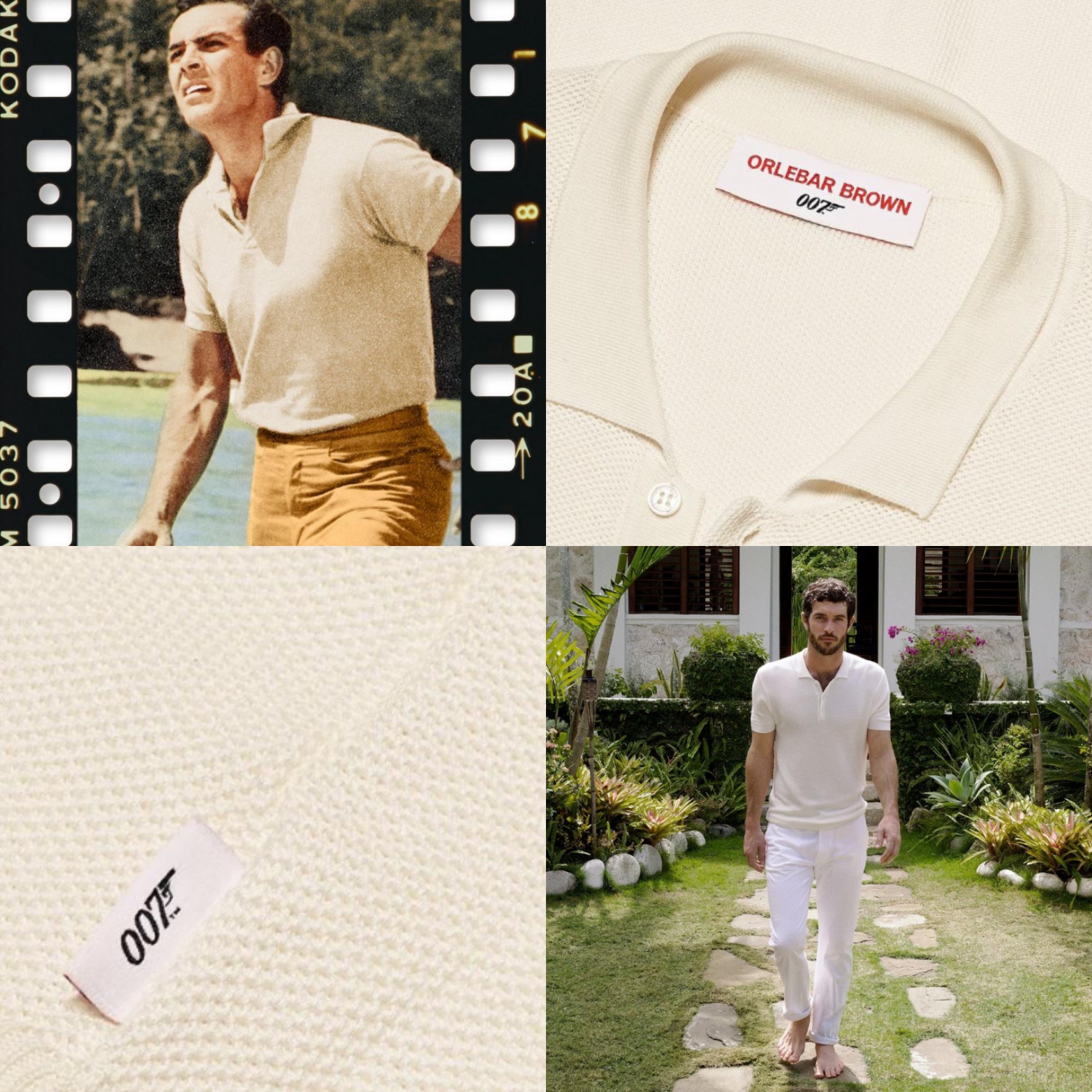 DR. NO KNITTED POLO

007 Tailored Fit Silk Polo / £295

Inspired by Bond's classic beach style, this timeless Italian polo shirt in ivory cotton-silk is smooth, lightweight and breathable.
BULLDOG

Dr. No Mid-Length Swim Shorts / £245

The print featured on these swim shorts is an adaptation of Joseph Caroff's logo of a pistol overlaying Bond's codename 007.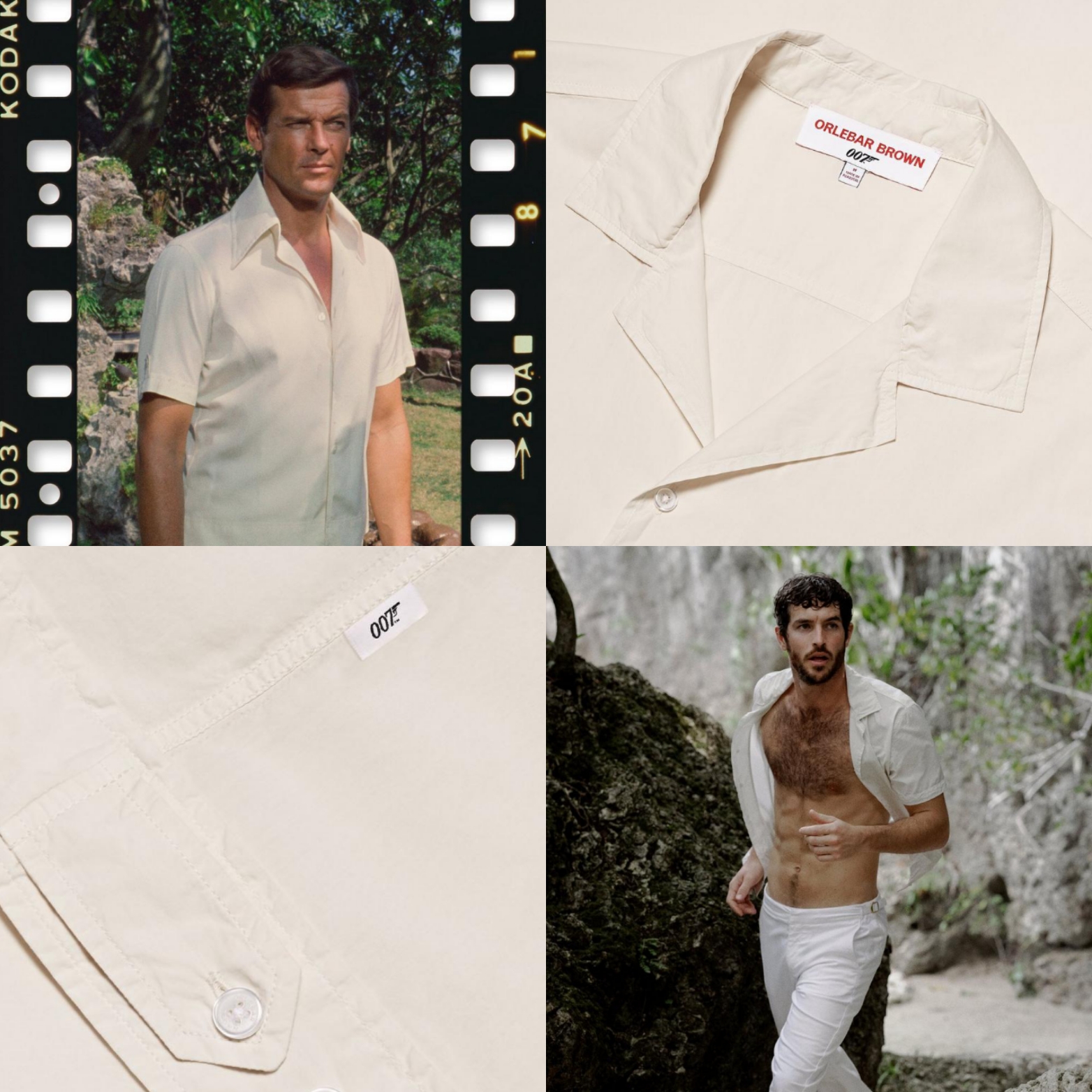 GOLDEN GUN SHIRT

007 Ivory Capri Collar Shirt / £195

This men's cotton shirt is inspired by The Man with the Golden Gun (1974) and Bond's cream monochromatic outfit. With its Capri collar and buttoned side-adjuster tabs that are true to the original design, this shirt should be worn untucked to demonstrate sophisticated resort wear style.
FOR YOUR EYES ONLY T-SHIRT

007 Blueprint Tailored Fit Silk T-Shirt / £245

A reimagined style seen in For Your Eyes Only (1981) with an Italian-made blue cotton-silk V-neck, cut into a tailored fit and finished with chevron detailing.
THUNDERBALL GINGHAM SHIRT

007 Blueprint/White Capri Collar Shirt / £195

OB's signature towelling fabric for the lining with the spy's imitable style in Thunderball (1965) to bring together the best of Orlebar Brown and James Bond.
Maybe they are leaving the Octopussy gown, May Day snood and Drax Industries spacesuit until the next wave of clothing?! Anyone else putting their name down for Dalton's The Living Daylights Austrian anorak (complete with cello accessories) or maybe Pierce Brosnan's Korean Robinson Crusoe ensemble from Die Another Day?! But for now go to Orlebar Brown and their 007 Heritage Collection page for more details, sizing and availability.