'You can watch it all on TV.'

YOU only live twice / 1967
Television has always been a key part of the James Bond success. Vital even. Whilst movie Bond steadfastly, diligently and rightly remains a pop-cultural beast of theatrical cinema for seven decades and counting, it has been television screens that have broadened and emboldened the reach of 007. The silver screen is where Bond is first seen. The television screen is arguably where he is first remembered. Cue countless fans and audiences and their fond memories of Boxing Day Bond TV premieres with families on the chocolate scattered sofa, feverish attempts to bolt down Christmas Day dinners in order to crank up the VHS to videotape a post Queen's speech broadcast of Moonraker and the unbridled magic of first seeing an unseen old Bond film on an ITV Bank Holiday Monday. And dare we overlook the 1990s animated extravaganza that was James Bond Jr. and its resulting affections amongst Bond fan kids of a certain age?!
The first screen adaptation of any 007 property was an American TV show. CBS's live adaptation of Casino Royale was the third instalment of a drama strand called Climax! – and was first broadcast on Thursday 21st October 1954. Whilst it was not quite the pistol firing moment that 1962's Dr. No became, this Casino Royale and its CBS producers got author Ian Fleming later interested enough to start developing future television projects around 007. The spy-maker himself was arguably more interested in the potential of TV for his creation than the big screen. Part of that televisual – and eventually controversial – turn of events, collaborations and personalities were the later 1961 Thunderball novel, EON's Thunderball film in 1965 and its remake, Never Say Never Again (1983).
As 1960s Bond mania raced around the world quicker than a TV broadcast and stations endeavored to cash in on the 007 phenomenon, 1967's movie You Only Live Twice had its own television spin-off. Welcome to Japan, Mr. Bond was a dramatized promo project with a wealth of clips from the first four 007 movies designed to push Sean Connery's fifth 007 bullet. Starring Lois Maxwell as Moneypenny, Desmond Llewelyn as 'Q' and Kate O'Mara (The Colbys, Doctor Who) as Moneypenny's assistant, Welcome to Japan, Mr. Bond operated in the Connery Bond world – featuring music, locations, vehicles and travelogue beats surrounding that 007 in that moment in time. It also ends on being a promo beat for 1969's so far uncast On Her Majesty's Secret Service. The founding Bond captains Albert R. Broccoli and Harry Saltzman served as Executive Producers. And composer John Barry's Bond music forms the soundtrack.
Almost seventy years after CBS's Casino Royale and Welcome to Japan, Mr. Bond later added to the TV branding of 007, a new TV chapter for Commander Bond is now available on Prime Video.
007 – Road to a Million operates in the Craig Bond world – featuring music, locations, vehicles and travelogue beats surrounding that 007 in that moment in time. The new Bond captains Barbara Broccoli, Michael G. Wilson and Gregg Wilson serve as Executive Producers. And composers David Arnold, Hans Zimmer and Thomas Newman's Bond music forms the soundtrack.
Amazon Studios are all about new adventures and projects when it comes to Commander Bond. Their 2021 buy-out of the MGM studio and catalogue – which includes Bond – was Amazon's second biggest purchase after it famously paid $13.7B in 2017 to acquire the US food chain, Whole Foods. A larger wedge of that price tag Amazon has paid for will be wearing a sixty-year-old tuxedo. Two early titles available were 2022's The Sound of 007 – The Documentary and The Sound of 007 – The Concert.
Make no mistake. Amazon did not buy MGM to get its hands on Sherlock Gnomes 2. The commercial options alone to pop a '007' logo and eventually 'BOND 26′ on every cardboard parcel hitting every doorstep on the planet is a more tantalizing prospect for Bond's optics than MGM's mere 2.1m Twitter followers (or even Marvel Entertainment's 18m). 007 – Road to a Million is the first collaboration project off that starting grid. It is also the first sidebar production of a new vital era for Bond. As much as 1972 or even 1997 memories of catching Bond movies at the two-screen Odeon are the warm underpinning of a great wedge of 007 fandom, the franchise needs to move forwards too. And part of that involves attracting newer, younger audiences who only know of Bond from spinning No Time to Die DB5s on their cell phone ad walls.
WE HAVE ALL THE PRIME IN THE WORLD – Amazon Studios & Prime Video buy-out MGM and the 007 franchise for $8.5 billion
As the whole 007 momentum journeys into its eighth decade, it must look to younger demographics and new technologies to bolster its appeal, name, and energy. Amazon represents that far more than endless Tuesday night showings of The World is Not Enough on ITV4. And that is before we even factor in the new gaming, publishing, merchandise, television, licensing and music opportunities that could well end up being part of this Vesper cocktail over time.
It is also worth noting that 007 – Road to a Million was a project that pre-dated the Amazon MGM Studios partnership. It was pre-pandemic when 72 Films' David Glover first approached 007's EON Productions about the possibility of a non-fiction adventure television series. With the very might, petty cash and tech device reach of Amazon Prime Video and the work of Amazon Studios representing a canny older tech brother for the Bond franchise, this is not some deathly downgrading of 007. Cue Netflix's breakout hit Squid Game and its own recent reality TV spin-off, Squid Game – The Challenge.
So what is 007 – Road to a Million about and does it work?
Brian Cox's shadowy and constant 'The Controller' has hidden ten questions around the world for each pairing. To reach these questions, the pairs face Bond-inspired challenges, which push their physical strength and mental reserves to the limit. Each question is worth an increasing amount of money, and if answered correctly, they bank the cash and continue to the next question. If any couple gets it wrong, their journey is over. More than one couple can progress at the same time. Yet, as the pairs disappear, the victors are almost in races against time and each other.
From emergency nurses and retired police officers, youth community workers, a father and son, an intrepid married couple travelling the world, a fraud analyst, and a process engineer, two best pals from Jamaica, two radio presenter colleagues, a duo of close sisters, and two South London brothers, 007 – Road to a Million has thrown together nine diverse pairings to take part in a Bond inspired caper worthy of Commander Bond himself.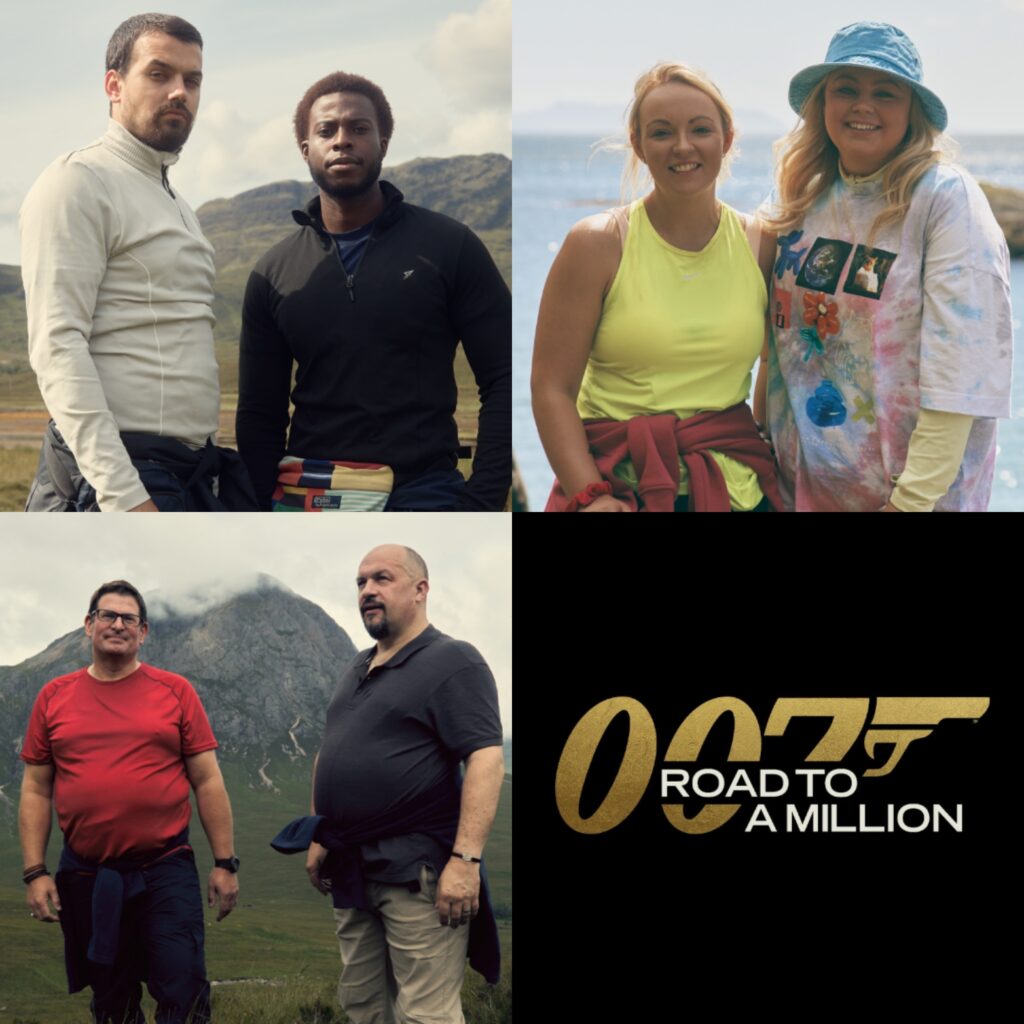 With the casting often overseen by the golden casting eye of Bond producer Barbara Broccoli, the nine pairs of contestants deftly avoid any crass, fame-hungry, or obvious reality show mindsets. This is not a role-call of wannabe influencers desperate for headlines, followers and a wardrobe malfunction. Part of the quiet grace of this show is how these are very much not ripped Love Island contenders, morning TV hosts doing the tango badly on Saturday night TV, or the loud identity politics of Big Brother. We don't even see a cauliflower jus being smeared onto a slate plate for a Masterchef quarter-final place.
Ever so slightly recalling Bond director Michael Apted (The World is Not Enough, 1999) and his groundbreaking 7-Up TV project, at the heart of this 007-Up is a real, recognizable cross section of 2023 British life in each and every episode. Whilst it is not needing to make the social commentary that Apted's epic project of television did (and still does), one of the quiet glories of 007 – Road to a Million is its very real, very now contestants. Amidst the quite beautiful cinematography and quickfire travelogues edited to the musical likes of 'City of Lovers' from Casino Royale (2006) or 'Square Escape' from No Time to Die (2021), the contestants and their motivations to get involved are not ignored.
Slithers of very real lives, tragedies, absences, work loads, turning points, breaking points and relationships are threaded into each of the eight episodes by series editors Chris Nicholls and Wesley Thomas. Make no mistake. This is a very high-end, epically mounted gameshow. Nine million pounds was set aside as prize money. That would have bankrolled nine Dr. No movies. Or now one hub cap on a DB5.
Yet, it is where these people are coming from that is as key to the show's warmth and success as any expensive shot of a Brazilian jungle, satellite pin or bottle of Bollinger fizz. When many have to exit stage right, it often does not matter. Many a reality show would not let that happen. There are more tears over a failed Victoria Sponge in a Bake Off tent at Pinewood Studios than any of the refreshingly stoic and humble cast members of 007 – Road to a Million.
When one pair who have already expressed their need to see the real world and to live past their life experiences so far hit a wrong answer, Thomas Newman's 'Voluntary Retirement' cue and an early home time, it really stings. When another pair's time is later up, we see them support each other, raise a glass of Bollinger and – in that slight Bullseye contestant way – toast the best ride of their lives and that they even got that far. Again, these are good people. And unlike said TV darts quiz show, these contestants do not get to see a speed boat they failed to win. They just get dropped into one as quickly as it takes to charge up a drone camera's battery pack.
Granted, it is curious to see the movie world of Bond feed into a television show of this nature. A sort of Treasure Hunt meets Who Wants to Be A Millionaire in a tuxedo. There is a subtle inclusion of a lot of real Bond detail. A throwaway distant shot of planes landing on a Rio airport runway suggests someone knows their Bond '79 for starters! EON Productions own substantial archive was mined for Easter eggs, random paintings, ornaments, trinkets, and Scaramanga's golden gun.
However, this is not a Bond pub quiz with helicopters, tarantulas and fancy hiking boots. There is no Grace Jones hiding in a Jamaican bar to unveil the next Blackwell Rum inspired question (but there is Blackwell Rum). Judi Dench is not on a video message reading out multiple choice answers. These contestants are not even Bond fans. And this is why the show works.
There is possibly a slight, initial disconnect to eighteen ordinary folk adventuring and sweating alongside DB5s, Moonraker cable cars, 'Crab Key' locations, No Time to Die Land Rovers, OHMSS alpine sunsets, train stations and pounding John Barry chase themes, Safin-inspired aerial trudges through snow, Faberge eggs, Dolomite-esque climbs from For Your Eyes Only, a classical music cue usually soundtracking a fancy death by sharks, and Skyfall casino entrances. However, the point of the show's structure is that the contestants, their experiences and challenges become more James Bond familiar the further they progress.
Spoiler – there may be at least one big fan of Moonraker at 72 Films as there is definitely more than one nod to Roger Moore's 1979 sci-fi classic here! And as the season ends, 'The Controller's multi TV screen hub switches off to leave a lone, but iconic 007 movie beat.
Whilst Brian Cox's 'The Controller' is not narratively introduced from the outset – he is just present and doing his thing over phone lines, tannoys, VHS tapes, and voicemails – Cox is very much the cynical, genuinely intimidating and kind of perfect adhesive of 007 – Road to a Million.
From Manhunter to Bond hunter, 'The Controller' is a warm, but malevolent, almost sinister overseer. These contestants are the mice at the end of his cat's string. He is blunt, comedic, scary, in charge, cold, encouraging and brilliant – all at the same time. Cox does remind of what sort of a great Bond – or Bond villain – the series never had. He is the detail-free gravitas the show needs. And yes, he does have a great wardrobe and at one point have the same tape recorder set used by Blofeld in Diamonds are Forever (1971).
007 – Road to a Million is predominantly positioned in a Daniel Craig era Bond world. The photography, set design, cars, production values, music cues, opening titles, brands, establishing shots, the ancient Europe heights, stunt backdrops and the parched palette of the sixth Bond's rich tenure are all part of the template here. And the contestants are none the wiser. Of course, all platinum-card carrying Bond fans will notice the sly nods. Paul Duncan – author of the vital The James Bond Archive – is on consultant duties and the franchise detail is there if folk want to see it.
One element that greatly reminds of the last twenty years of Bond movies is the show's production design. Beautifully crafted and seemingly random Venetian villas, phone booths, barber shops, sheds, construction sites, lagoon cabins, underwater jetties, bus journeys, intercoms and ski cabins are all skillfully dressed at every turn. Top marks to 72 Films and their various unit, location and production managers as the fictional constructs and challenges operate effectively in a multi-camera, documentary world. And it is all held together in that luxuriant Bond milieu by Ben Margitich and Duane McClunie's delicious photography. 72 Films' director Julian Jones remarks how 'something we were adamant about from the get-go, is that we were going to shoot it anamorphic. In other words, a wide-screen aspect ratio so it has the look of Bond. We wanted to make a documentary that felt like a movie.' And it does.
Never has a reality show looked so affluent, global and contemporary. It is no easy feat to shoot unscripted action in the Scottish highlands, Chilean desert or ancient Matera ruins and keep a sizeable and necessary production team at a distance from the contestants, approaching bad weather, the security surrounding real onset gold bars, nearby airports and their flight paths.
Whilst the world ponders who the 007th 007 could be and the direction Bond's new era could follow, 007 – Road to a Million is more than an entertaining placeholder. It proves both Bond's captains and newest studio partners mean business in a new era. In a time of social division and darkly skewed movies and television, this show ultimately represents a much needed bullet of simple fun. It will surprise you.
Welcome to Amazon, Mr. Bond. The green smoke is already flowing for 007 – Road to a Million.
007 – Road to a Million is streaming now on Prime Video.
Many thanks to 72 Films, EON Productions, the PR crew and Amazon MGM Studios.
Executive Producer Barbara Broccoli and star Brian Cox talk about a new era for the Bond world at the show's November 2023 London premiere.

'He's the greatest. Brian Cox is on top of the world. He actually would have made a great Bond, I have to say. He would have been a GREAT Bond.'

– Barbara Broccoli

'I thought this may be my big moment to play a Bond villain. I've always wanted to play a Bond villain.'

– Brian Cox
Prime members will be able to watch all episodes of 007 – Road To A Million anywhere and anytime on the Prime Video app for smart TVs, mobile devices, Fire TV, Fire TV stick, Fire tablets, games consoles, on Virgin's V6 TV Box, the TalkTalk TV set top box, Sky Q, Apple TV, Chromecast, BT TV, or online at www.amazon.co.uk/primevideo.
What Amazon's MGM deal means for 'No Time To Die' and the future of James Bond