"Mark O'Connell brings alive those wonderfully heady days when American cinema was young again – exploding with the fun, colour and imagination that illuminated our own frozen shores and fired the imaginations of children – and grown up children – everywhere. So take your mashed potato Devils Tower to the lost city of Tanis – via Krypton and, of course, a galaxy far, far away – and indulge in this fantastic personal account of one of the greatest chapters in movie history. An unmitigated delight."

MARK GATISS (Sherlock, Doctor Who)
Mark O'Connell didn't want to be Luke Skywalker. He wanted to be one of the mop-haired kids on the Star Wars toy commercials. And he would have done it had his parents had better pine furniture and a condo in California.
Star Wars, Jaws, Close Encounters of the Third Kind, E.T. The Extra Terrestrial, Raiders of the Lost Ark and Superman didn't just change cinema – they made lasting highways into our childhoods, toy boxes and video stores like never before.
In Watching Skies, O'Connell pilots a gilded X-Wing flight through that shared universe of bedroom remakes of Return of the Jedi, close encounters with Christopher Reeve, sticker album swaps, the trauma of losing an entire Star Wars figure collection and honeymooning on Amity Island.
From the author of Catching Bullets – Memoirs of a Bond Fan, Watching Skies is a timely hologram from all our memory systems. It is about how George Lucas, Steven Spielberg, a shark, two motherships, some gremlins, ghostbusters and a man of steel jumped a whole generation to hyperspace*.
*Action figures sold separately.
"Wrapped around a beautifully evocative cover, reminiscent of many Close Encounters of the Third Kind promotional images, O'Connell is deft with his words, bringing back old memories in technicolour that remind us (those of us old enough to remember anyway) just what it was that got us so invested, especially British kids raised on a diet of Doctor Who and '60s re-runs… There's never been a more perfect storm in pop culture, and O'Connell encapsulates this beautifully in a book that is a love letter to the era, and a reminder of just how lucky we were to have lived through it. "
★★★★★★★★  STARBURST
"I thought I was the only person obsessed with every single thing written in this book, but fortunately for the rest of us Mark O'Connell is too. This is the ideal Christmas gift, even if you're browsing at Easter."

MARK MILLAR
"Mark O'Connell – whose first book, Catching Bullets, described his life as a James Bond superfan – revisits the other films and stories that so obsessed him during his childhood… tracing their impact not just on himself but on a whole generation of space-lovers and cinema-goers"

RADIO TIMES
 'The Best Books we read in 2018 – Watching Skies: Star Wars, Spielberg and Us'

THE ADVOCATE
"It's a wonderful rallying point for the Star Wars generation, a book dripping with nostalgia for a genuine golden age of movies. And Superman IV."

SFX
"Love the era of Jaws, Star Wars and Ghostbusters? This book is for you. Remember Look-In, CHiPS and the Why Don't You gang sitting awkwardly on hay bales? This book is so for you."

★★★★  TOTAL FILM
"O'Connell brings readers to a prequel… a prelude of enviable and commendable prose typifying the importance the films of Lucas and Spielberg held on a generation… Watching Skies is another love letter to the cinema of the Seventies/Eighties, written with O'Connell's excellent command of the English language. He writes with wit and repartee, even managing to connect Bond to Superman through the means of another writer, Tom Mankiewicz, who O'Connell highlights is "the master of cutting to the chase, affording tight exposition to otherwise sprawling capers and the barbed retort."

WE ARE CULT
"We rather liked Mark O'Connell's Bond-fan memoir Catching Bullets. Watching Skies does much the same for the likes of Star Wars, Close Encounters and E.T. reminiscing about toys, videos, sticker album swaps and so on. "

SFX
"The book is just a glorious encapsulation of what it was like to come of age in not only what was a magical age, but now a bygone age… It is a terrific, terrific read whether you grew up in the 1980s or not… a really wonderful way of giving a new take on these films."

ZAKI HASAN / SAN FRANCISCO FILM CRITICS CIRCLE
"The writing flows off the page so comfortably that it's almost like listening to a podcast which was made just for me. I am on my third read of this book now and each time I read it I smile as I hear the various theme tunes playing in my head. This book is a must for any lover of classic nostalgia, movie history or someone who needs a smile… Nostalgia isn't about clinging onto the past, it's about remembering what you love and what you love about yourself."

THE GEEK OF STEEL
"Mark offers a different perspective on these films with a clever critique and a huge slash of nostalgia."

OLIVER HARPER'S RETROSPECTIVES & REVIEWS
"Know someone who grew up on Star Wars, Close Encounters, E.T., and Indiana Jones? Or someone who caught the fire in a later generation? Of course you do . . . why am I even asking? This is the book for them. Watching Skies is both a personal story of one kid's movie-influenced childhood, and a universal story of how Lucas, Spielberg, and others changed Hollywood, the world, and the experience of childhood. O'Connell's light, breezy style is a pleasure to read, making the book a real page-turner. If you make a gift of only one pop-culture-related memoir this year, make it Watching Skies."

ANALOG – SCIENCE FICTION AND FACT
"I felt understood. I felt like Mark O'Connell got it, got me, and I got him. I experienced an inclusion that often feels quite distant in these days of rent/mortgage payments, political divide, class inequality, mass shootings, and ever-increasing fears the world will crumble due to a tweet. I felt the wonder of youth again, the limitless potential of imagination, and the boundless joy of losing oneself in play. Of creating worlds alone in the backyard with little more than a few hunks of plastic and the practical backdrops of shrubbery, snow, or sand."

AIN'T IT COOL NEWS
"Just finished WATCHING SKIES by Mark O'Connell. It's about how the great blockbusters of the late '70s and '80s influenced an entire generation – and it's a fantastic read. A big recommend

"

ALL THE RIGHT MOVIES
"In this hefty tome, O'Connell – with his trademark sardonic and delightfully detailed style – shares his adventures, influences and insights into his own life growing up gay, bursting with adult gay geekiness and gawping at the skies with an arched eyebrow and a heart full of hope as the world changes and becomes more LGBTQ+ accepting around him. It's laugh out loud funny, seriously touching and his prose rolls with a rocking rollicking grace which keeps you turning the pages."

GSCENE
"This book is a finely researched and highly informative examination of Spielberg, Lucas and their associated projects. I particularly enjoyed the chapter on Poltergeist, and despite film legend to the contrary, O' Connell puts forward a very convincing argument that the film is as much Tobe Hooper's as it is Spielberg's… Balancing the biography and film criticism with ease, Watching Skies is a warm, witty and insightful love letter to all the lonely imaginative kids out there who brought the Forest Moon of Endor to life in their back gardens; built a lightsaber out of tape and toilet rolls, and looked up at the moon hoping to catch a glimpse of Elliot and E.T riding a flying BMX into the night."

5/5  GEEK SYNDICATE
"Watching Skies is a book full of joy, admiration and respect. It manages to both be an insightful, fascinating analysis of one of the most interesting points in American cinema and culture of the 20th century while at the same time feeling at times almost like a personalised diary, a stroll through the life and memories of a burgeoning cinephile and geek. For anyone who grew up in this era, with all its unique quirks (particularly as a Brit) and trends, Watching Skies will feel like you've been transported back to the era of Spandau Ballet, the Test Card Girl shutting you down at night, and E.T phoning home. Embrace it."

★★★★  SET THE TAPE
"Mark's writing about his growing up with these films has given me the insight I was missing, the ability to share this childhood experience through someone else's eyes, and I'm ever so thankful for that!"

BEAR WORLD MAGAZINE
"I couldn't put it down. It invoked feelings of nostalgia in me that I thought were long since buried. It's easily the most enjoyable book I've read in the last maybe five or even ten years."

FILM '89
"It does a fantastic job… not only personalising the experience, but also looking at the macro level of what was going on – not only in movie culture at the time, but also in television culture and also in British culture too."

ALLEN VOIVOD / STAR WARS 7×7
"It is as much of a book about Star Wars, Superman and Spielberg as it is about us, hence the subtitle. There are many books that go into detail about Star Wars, Jaws, Close Encounters and Indiana Jones, but few really portray how those pieces of media can influence and change someone's life… The book is both personal and universal, in that we've all allowed our favorite pop culture moments to shape who we are and how we experience the world around us."

REVENGE OF THE FANS
"Such a deeply researched and hilariously funny book. It reminded me of some of my favorite moments from a time "far, far away" when we had to rely on novelizations and sticker books to recall great movie experiences. Watching Skies is a time capsule that I would love to be excavated by a future Indiana Jones, when people will wonder how film nerds like us coped with no access to technology that is taken for granted."

STEVEN SPIELBERG CHRONICLES
"Mark O'Connell is a connoisseur of all things geek culture… The book is a homage to Star Wars fans the world over, whatever generation they may be."

LOGO TV
"Put down your Cabbage Patch Kid, turn of your Atari, fix yourself a Soda-Stream and enjoy a trip down Nerd Lane."

GCN MAGAZINE
"I have so many feelings about this book that I could go on and on and on. Mark O'Connell has a way of connecting with his reader, sometimes in a Jean Shepherd way, yet always in his own voice. I'm still not done thinking or talking about this wonderful reading experience. When I was home sick from school as a young one, I was glued to HBO watching The Beastmaster, Raiders, Octopussy, Krull etc. Being bedridden with this book the past two days was a wonderful trip down memory lane. Finishing it was bittersweet."

WHAT DOES IT MATTER?
"The power from Watching Skies is that it feels good to know others have had nearly the same experiences as you did… his appreciation and love for the groundbreaking directors, films and toys of the late '70s and through the '80s shines through – the personal recollections of such a fan of pop culture will keep you eagerly turning the next page!"

THE RETROIST
"Thoroughly enlightening and intriguing! Thank you… for sharing your passions with us! I'll always be Watching Skies and Believing A Man Can Fly!"
JIM BOWERS / CAPEDWONDER.COM
"But what made me a lifelong fan of Mark and his wonderfully magical book down 1980s movie memory lane is that Mark gave me something no one except my wife has ever been able to give me before – the feeling of belonging."

MOVIES OVER THE RAINBOW
"This book is a terrific look at growing up geeky, with touchstones familiar to those of us of a certain age who grew up with the original Star Wars, Spielberg movies– you know. The good stuff. O'Connell encapsulates the joy of encountering all that stuff at an innocent age, and better yet, makes the case for its effect on him (and our generation) as we grew up into bigger kids. It's poignant, but also joyful. It's a cathartic look at a crazily creative time, and the author does a deep dive into the heart of geekiness."

REVOLUTION SF
"It's the first book I've read cover to cover for a longtime and is a truly inspired insight into an incredible time. When New Hollywood cinema shaped our lives."

MAT's MOVIE REVIEWS
"A thoughtfully illustrated title and, in some ways, a welcome replacement for yet another 'definitively official' guide to the movies' making."

SCREENTRADE
"O'Connell embraces the movies' messages of hope and humanism, and convincingly argues that we're better because of these blockbusters."

THE TANGENTIAL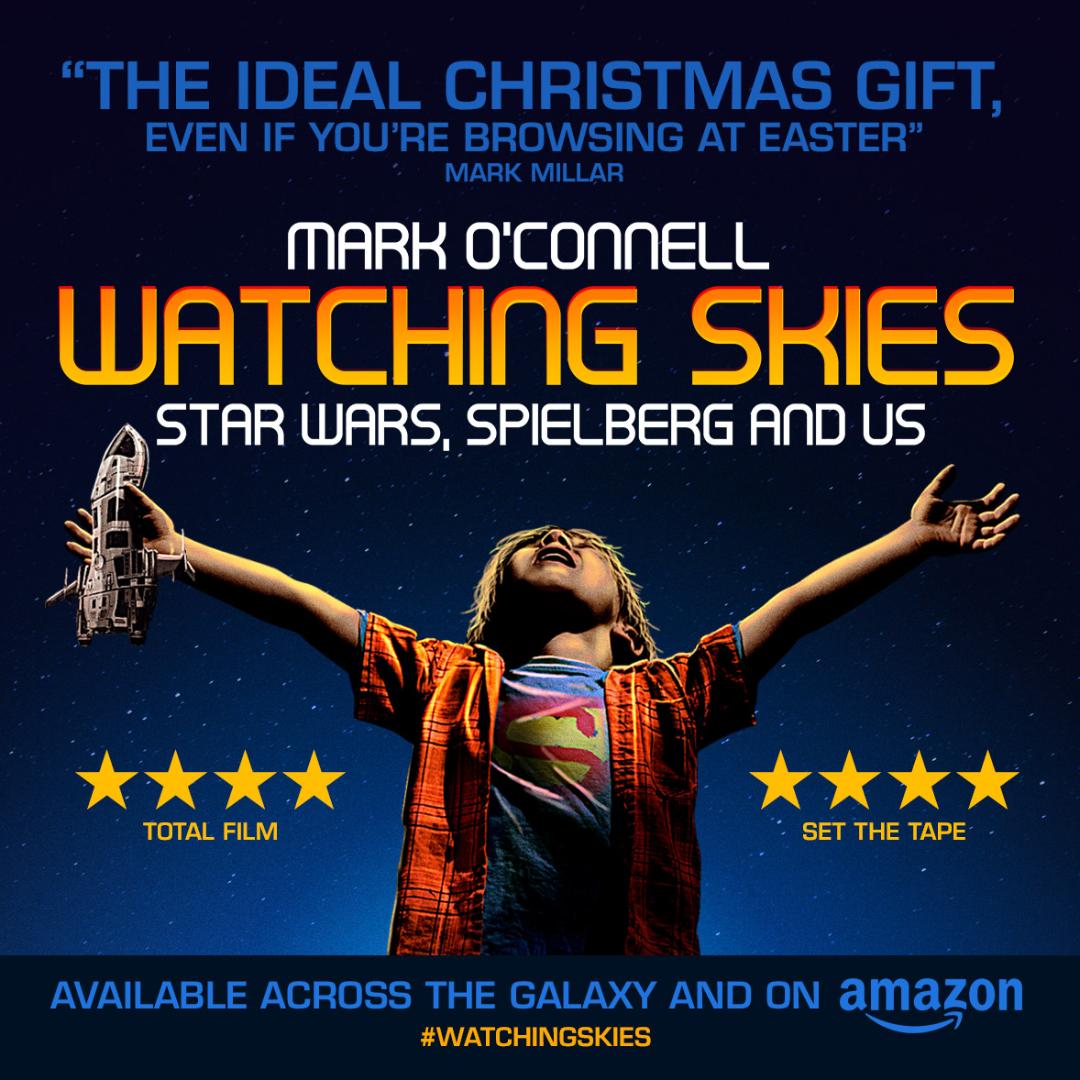 Watching Skies – Star Wars, Spielberg and Us by Mark O'Connell is now published by The History Press and available in all good book and e-book stockists across the galaxy.
BUY WATCHING SKIES – STAR WARS, SPIELBERG AND US
£16.99
Paperback ISBN 9780750970198
eBook ISBN 9780750986151
Click for Watching Skies' full press release.
For all Watching Skies press, reviewing and media enquiries :
Jess Gofton @ The History Press
01453 732513
[email protected]
For all writer enquiries:
Vivienne Clore
020 7497 0849
[email protected]
WATCHING SKIES MEDIA COVERAGE ACROSS THE GALAXY
Watching Skies cover artwork designed by Scott Woolston / Scott Woolston on Instagram
The History Press on Facebook / Twitter
For more details.