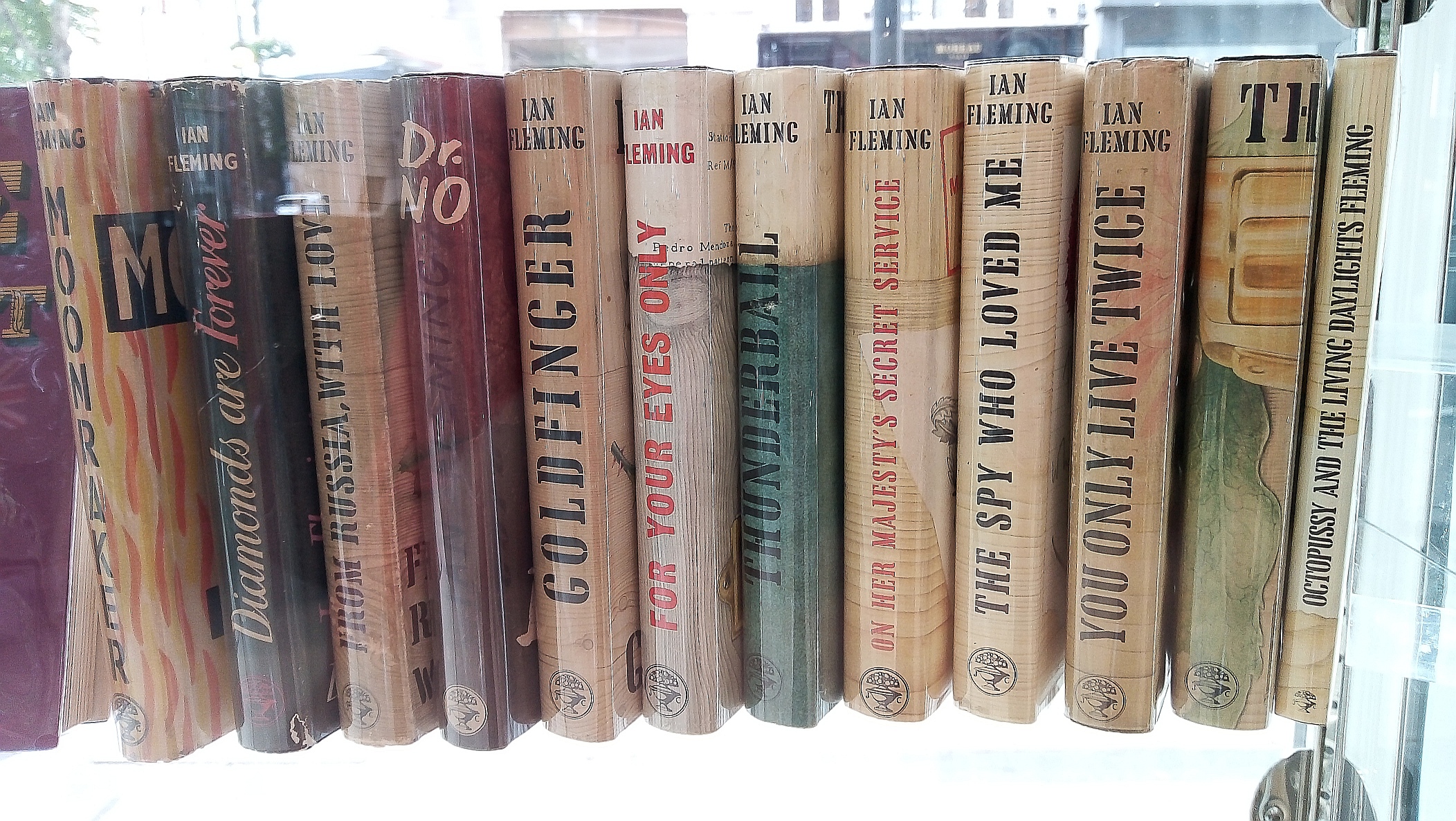 'Kennedy has confined himself mostly to nonfiction, but like many of the world's leaders he has a weakness for detective stories, especially those of British author Ian Fleming and his fictitious undercover man, James Bond.'

LIFE magazine, March 1961
Like James Bond 007 himself, the ever evolving 'Special Relationship' between Britain and the United States of America was a post-war project founded for a new generation by new era leaders navigating the Cold War in a jet-age of sun, style, travel and technology. As author Ian Fleming satiated European readers with a glossier peril, sexier outlook and warmer adventure than their monochrome, post-rationing 1950s worlds were providing, a President of the United States was about to propel the 007 project in America – and begin a special presidential bond with Bond.
In March 1961 – and less than two months after he had been sworn in as the 35th President of the United States – John Fitzgerald Kennedy was asked by Life magazine's Hugh Sidey to list his ten favourite books. In amongst Life's ads for Chrysler cars, Royal Electric Typewriters, Goodyear Tires, Special K cereal and Frigidaire Frost Forbidders was the almost lost article detailing JFK's favourite reads. The listed likes of John Buchan's Montrose and Pilgrim's Way, Samuel Flagg Bemis' John Quincy Adams, Winston Churchill's Marlborough, Allan Nevins' The Emergence of Lincoln, Peter Quennell's Byron in Italy and Herbert Agar's The Price of Union all point to exactly the registry of civic and globally-wise tomes a new President would cite two months into occupying the Oval Office.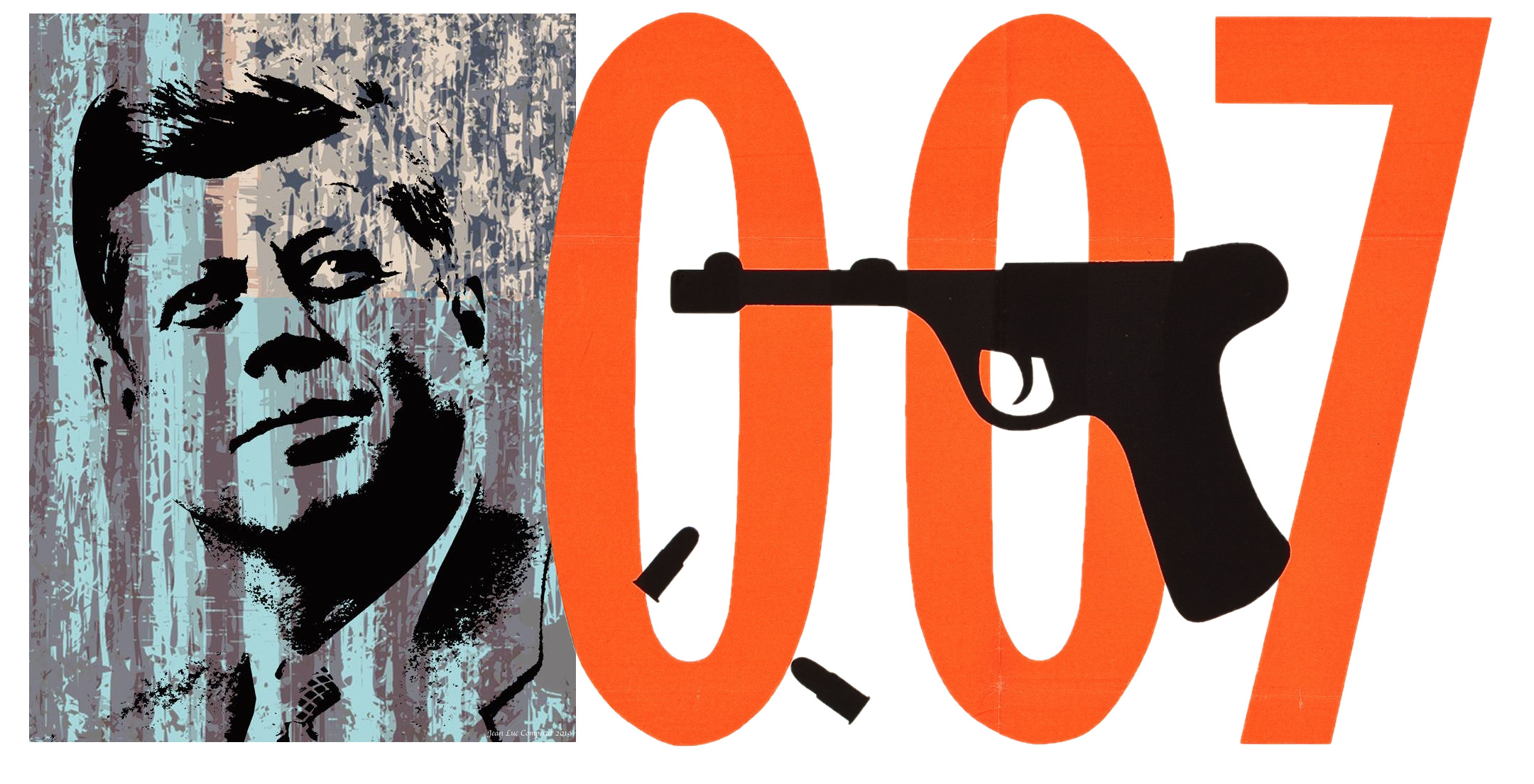 'The Kennedy day begins with reading', wrote Sidey in 1961 – 'Kennedy has confined himself mostly to nonfiction, but like many of the world's leaders he has a weakness for detective stories, especially those of British author Ian Fleming and his fictitious undercover man, James Bond. When CIA director Allen Dulles learned about this, he told Fleming, and the next time Fleming came to the US, Kennedy had him over for dinner' ('The President's Voracious Reading Habits', Life magazine, March 17 1961).
Allen W. Dulles was a friend of Ian Fleming's. A head of the CIA, a later spy writer and espionage historian of merit himself, Dulles had already been an avid Bond novel fan since Jacqueline Kennedy suggested he read Fleming's work. When Ian and Allen became shorthand pals and society and political confidantes, Dulles' Bond fandom ensured it was no coincidence that the American defense systems and intelligence plotting began to echo that of 007 and his burgeoning secret-tech world. And Dulles always endeavored to push and promote his friend Ian into American political and societal circles, as well as book store shelves.
As a published 1964 conversation between Dulles and Fleming cites, England's great spy maker met, knew and respected John Fitzgerald Kennedy. 'In the spring, about March, before he was elected,' Fleming recounts to Dulles in Redbook magazine, 'I was visiting an old friend and I was driving along through Washington one day with his wife'. That friend was Marion 'Oatsie' Leiter. Married to Thomas Leiter, the couple's surname was affectionately borrowed by Fleming when penning 1953's inaugural Bond novel, Casino Royale. 'Oatsie' was also a longtime family friend of the Kennedys.
Fleming continues, 'And there we saw two people on the street and she said 'Oh, there's Jack and Jackie Kennedy!'. And so we pulled up, and she said, 'How are you?' and so on… 'Do you know Mr. Ian Fleming?' And Jack Kennedy said 'Not THE Ian Fleming?!'. An immediate upshot from that DC street encounter sees Fleming invited to dinner by the Kennedys amidst a happy realization they all have a mutual pal in Allen Dulles. This – as well as a need to balance out those over-worthy publications a President might read with a bit of pulp fiction escapism – in no doubt led JFK to add From Russia with Love to his Top Ten reads and that Life article.
That advocacy no doubt added a quiet and vital energy to that Bond momentum – a seal of approval that took the spy from literary success to a pop cultural phenomenon that is still driving forwards sixty years later. Fleming references Jack, the Kennedys and American politics – sometimes less supportively – in his subsequent Bond works. In 1962 he personally sends the Attorney General Robert F. Kennedy a signed copy of 1962's The Spy Who Loved Me – a novel that includes the Fleming sentiment, 'We need some more Jack Kennedys. It's all these old people about. They ought to hand the world over to younger people who haven't got the idea of war stuck in their subconscious'.
Before he died in August 1964, Fleming would send subsequent Bond novels to Bobby who was a majorly keen 007 fan before his own death in 1968.
Fleming: 'And we went to dinner and we had great fun; and since then we became friends, and I always send the Kennedys my books. And of course he did me a fantastically good turn by saying they liked my books.

'Dulles: 'Well I can testify to that. Because I got one of your books from Mrs Kennedy…and then I sent her the next two.'

Fleming: 'A lot of adventure went out in the world when he died.'

Dulles: 'It did. It did. And lightness and quickness.'

Fleming: 'He was an extraordinary man. It just hit us like a sledgehammer in England.'

A conversation between Ian Fleming and Allen Dulles, Director of Central Intelligence – Redbook magazine, June 1964
There are key moments or historical beats in the timeline of James Bond that bolstered and solidified the fortunes of 007. Connery lighting that 1962 onscreen cigarette and introduction, Ursula Andress emerging from the Jamaican surf, Goldfinger in 1964, a DB5 with an ejector seat, Shirley Bassey and the phenomenon of Thunderball. However, none of these might have been possible had JFK and Life magazine not mentioned something they already knew – that Fleming's Bond was entertaining, addictive and part of a new era of adventure and global intrigue. The endorsement was big for the book Bond. Okay sales in America suddenly became very good. And the publishers upped their game. And when America likes something, the world follows. Now James Bond was a cultural currency in America – the country that also has Hollywood in its crosshairs.
That same year a pair of London-based film producers by the name of Albert R. Broccoli and Harry Saltzman teamed up to put Fleming's Bond on the big screen. When navigating their United Artists meetings, expectations and personalities in the June of 1961, Broccoli and Saltzman were no doubt quietly propelled by that much-publicized Kennedy endorsement. And it was one that was about to further seal a deal. The chairman of United Artists in those meetings was Arthur Krim. Krim was a close friend and confidante of JFK and a later advisor to Presidents Johnson and Carter. After an hour long meeting, Krim shook with Broccoli and Saltzman. A month later EON Productions was formed.
On November 28 1962, The White House Family Theatre screened Dr. No. As writer Matt Novak cites in a November 2016 Gizmodo article detailing the films the White House projectionist Paul Fischer played for the Kennedys, Jack and Jackie later settled down to watch its sequel From Russia with Love on October 23 1963. Just thirteen days after its London premiere and six months before its US release in April 1964, it was the penultimate film JFK saw. It was not the last time that second Bond opus would screen at The White House. A month after watching From Russia with Love and the title he put on the global map, John Fitzgerald Kennedy was shot dead.
As well as library cards detailing he had borrowed almost all of Fleming's Bond novels published to date, one of the reported finds in the possessions of Lee Harvey Oswald after that fateful November 1963 day were paperback copies of Live and Let Die and The Spy Who Loved Me.
With From Russia with Love being the second to last movie JFK officially watched (1963's Johnny Cool was purportedly the last), did any other Presidents ever hold a Bond movie night? Yes. Many. One of the perks of being President is gaining your own movie theatre in the White House.
Converted from an old cloakroom in the early 1940s, the 42-seater White House Family Theater in the East Wing hosts Presidential downtime to this day. The Motion Picture Association and studio bosses have always brought their product to the current incumbent, as well as upgrading the cinema. And some Commanders-in-Chief of course have many movie alumni as close friends, benefactors and confidantes.
'The President wants to thank you personally.'

goldFinger / 1964
The titles presented to the Presidents, their First Ladies and gathered guests make for a heady list of of pop-culture, new releases and nostalgic curios. President Carter watched the most movies during his four years, Nixon favored war movies and chest-beating Americana, an early watch for Carter was All the Presidents Men and Reagan really went there with a lot of video-store 1980s favourites (Cocoon II anyone?!). But did Commander Bond ever feature?
Yes. JFK's successor President Johnson who was not in love with the movies and would often sleep during any movie time in the Family Theater. Yet, as Matthew Sweet noted in The Economist in October 2020 – 'He stayed awake during Thunderball in 1966, possibly because, like James Bond, he was also dealing with a crisis involving nuclear bombs lost at sea'. And in 1972 and the first year 007 screened on American TV (Goldfinger, September 11, 1972), President Richard Nixon curiously had quite the Bond year alongside his Watergate shenanigans. On the same March 1972 day that Life magazine ran a cover story about his famous trip to China to meet Chairman Mao, Nixon watched Dr. No at Key Biscayne (the Florida 'Winter White House'). It was here he also watched Diamonds are Forever on April 27, 1972. Nixon continued his Bond year at Camp David with Goldfinger (May 11, 1972) and From Russia with Love a week later (May 18, 1972). On October 18 1978, President Carter also watched Connery's second Bond bullet – taking the presidential viewings of that film to three. Are we to assume the titular location was a factor?! Or are all Chiefs of State massive Matt Monro fans?
President Ford was apparently also less of a movie fan, but that all changed with his successor, Jimmy Carter. In 1977 and as 007 was waving the Union Jack flag back home, the White House housed those white Bond dots thrice- with The Spy Who Loved Me (July 15, 1977), The Man With the Golden Gun (November 10, 1977) and Live and Let Die (December 26, 1977). Whilst less of an American Christmas holiday staple, this Bond fan is most glad to see Carter single-handledly endorsing the very British habit of a Bond movie on Boxing Day. And Carter didn't stop there. He held up and caressed Diamonds Are Forever (August 6, 1978), was the winner who took all with Thunderball (November 2, 1979) and on November 11 1980 – just a week after he lost the election to Ronald Reagan – Carter licked his wounds with a movie kiss of death and Goldfinger.
'The President's Suite''Really?'

Moonraker, 1979
A year later and the newly-elected President Ronald Reagan was touring the Pentagon. The story goes he asked to see 'the War Room' and was most disappointed it failed to resemble designer Ken Adam's Cold War edifice from Dr. Strangelove (1964). Three years later on May 21 1983, Ronald Reagan watched Octopussy at Camp David – a few weeks before its June 9 1983 royal premiere in London. Whilst Presidents getting early prints of new films is no new thing, this early Bond watch could well be because on May 27 1983 the British broadcaster LWT aired James Bond – The First 21 Years. Part celebration, part Octopussy promo, the hour long anniversary special was a veritable Concorde-fuelled Who's Who of 1983. Dean Martin, Frank Sinatra, Farrah Fawcett, Ali McGraw, Christopher Reeve, Gene Kelly, Henry Ford II, Burt Reynolds, Joan Collins, Bjorn Borg, Ernest Borgnine, Liberace, Glen Campbell and many more contributed to the 007 party. As did President Ronald Reagan. The former Governor of California and twice President of the Actors Guild, Reagan was of course Hollywood stock himself.

'I've been asked to state my feelings about a fellow named Bond, James Bond', starts Reagan in a filmed address from the White House. 'As I see it, 007 is really a '10'. He's our modern day versions of the great heroes who appeared from time to time throughout history. There were many like him in the past – pioneers, soldiers, lawmen, explorers, people who all went out and put their lives on the line for the cause of good'. It soon transpired that White House officials and spokesmen were less than happy that Reagan's comments on camera may have been seen to be endorsing and promoting Octopussy and that Reagan may have been duped into the appearance. Nevertheless, Ron was a big and apt coup for the documentary and Bond.
'James Bond is a man of honor. Maybe it sounds old-fashioned, but I believe he's a symbol of real value to the free world. Of course, some critics might say that Bond is nothing more than an actor in the movies. But then, we've all got to start somewhere.'

President Reagan, James Bond – The First 21 Years, LWT, May 1983
Around that time Reagan and The White House also hosted a promo event for Superman III and the Special Olympics. It is such a shame we never saw Octopussy's Steven Berkoff in his Russian general costume stomping around the Rose Garden clutching a prawn vol-au-vent. Possibly for cross-party reasons, Reagan later watched Never Say Never Again at Camp David in October 1983 – where he also watched A View to a Kill (June 21, 1985) and The Living Daylights (July 24, 1987).
Whilst these are often official listings of Presidential movie nights, there is nothing to say any President never caught a Bond film elsewhere during their Pennsylvania Avenue occupancy. One imagines President Bush Sr. could maybe have caught Licence to Kill on Air Force One's VHS player before wondering why he had never heard of the narcotics problem in Isthmus City or Isthmus City itself. However, Bush Sr. was about to mount a campaign of real shock and awe – he had it in for broccoli. In 1990, President Bush and his childhood hatred of the green vegetable had reached the moment of a public statement that he never lived down. 'I'm the President of the United States, and I'm not going to eat any more broccoli', he demanded with a slight wink. Naturally, one family associated with Bond saw the headline – as countless broccoli farmers began driving truckloads of vengeful green vegetables to DC. In his autobiography When The Snow Melts, 007 producer Albert R. Broccoli recounts being later invited to a lunch held by President Bush in Beverly Hills. Sometime after Cubby and his wife Dana received a signed photograph from George Bush. It read, 'Dana and Cubby Broccoli – Now we're talking about the Broccoli I really like, George Bush.' Years later, his son President George W. Bush was allegedly less enamored with 2006's Casino Royale when screened for him.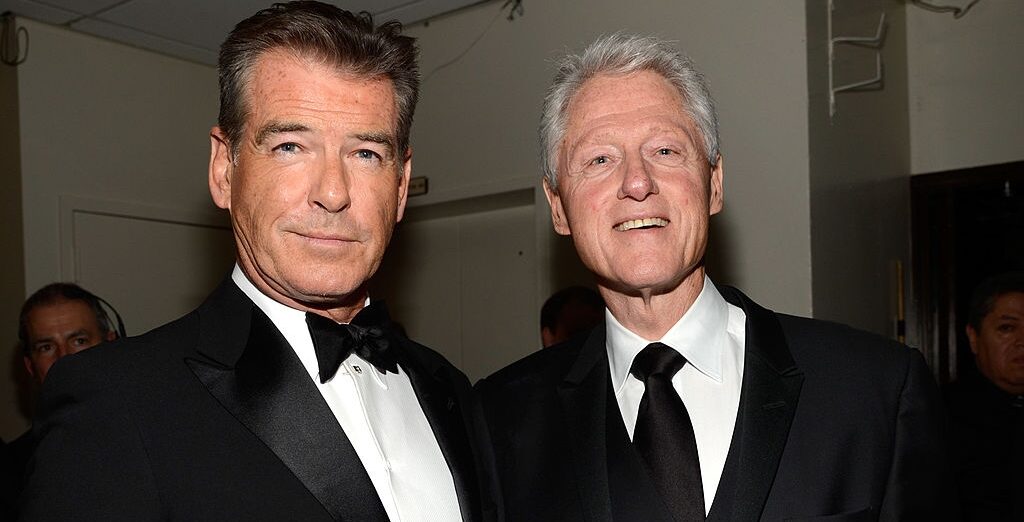 Curiously, White House movie lists do not cite any Bond films for President Bill Clinton's eight year reign. Although he apparently saw them. A close friend of the 005th Bond Pierce Brosnan, Clinton is purportedly a big 007 fan. In 2012, Stevan Riley directed the Bond anniversary documentary Everything or Nothing (2012) – which featured President Clinton taking on Reagan's Bond baton from three decades before by appearing onscreen to celebrate 007. Riley spoke to Screen Daily at the time of release and explained how 'I found it fascinating realizing that these premiers and heads of state are Bond fans. Clinton in particular was a massive Bond fan, and unashamed. He told me he had watched all the films.' Screen Daily describes how it was former Bond villainess Rosamund Pike that gave Riley the Clinton intel – 'She had a connection with Chelsea Clinton. I had heard a rumour he was a Bond fan and then it was a case of verifying that. We found somebody who was part of his campaign team and they confirmed it'. The same year EON Productions and Washington DC's International Spy Museum opened Exquisitely Evil: Fifty Years of Bond Villains – an exhibition heralding all manner of Bond movie evil-doing. One of the coy decisions this rich installation lent to the Bond timeline was a clever presentation of the connections between Bond, geopolitics, advertising, consumerism, world events and world order. Not that far from the White House itself, the exhibition reminded all generations of Bond's cultural hold and historical relevance.
Narratively, the Presidential convoy of Bond's Presidents are kept at a distance. Nothing ages a film more than happily referencing a real-life politician who is gone in a year. Bond's movie bullets naturally reference 'The President' – whether it is the admiration of the Commander-in-Chief in 1960s Bond (007 is almost off to meet the President for praise in 1964's Goldfinger), an eye-rolling disdain of all politicians and their ways in 1970s Bond via Diamonds are Forever spoofing 'The Whyte House' and Nixon-era Americana, Reagan's Soviet headlines, nuclear fears and tech corporatism dominating the story world of 1980s Bond, the beleaguered Yanks of 1990s Bond somehow navigating and ignoring their orders from above, the thinly-veiled digs at the American administration in the 2000s Bond (David Harbour's brief, but brilliant role in 2008's Quantum of Solace could well be read as a Bush Jr. swipe) and the 2010s see Daniel Craig expressing how when it comes to No Time to Die (2021) 'we struggled to keep Trump out of this film, but of course, it is there. It's always there, whether it's Trump, or whether it's Brexit, or whether it's Russian influence on elections or whatever' (GQ magazine, April 2020).

The eras and zeitgeists spearheaded by the real Presidents are there in all the Bond films. Dr. No and From Russia with Love are definitely Kennedy era movies – with an off-camera Washington sat on a hill of authority and distance, Jack Lord's CIA buddy Felix Leiter is presented as a cool cat Kennedy with his Martha's Vineyard shades and chill, and the story attentions on NASA's Project Mercury chimes with Jack Kennedy's burgeoning space race determination. The romantic entanglements and S.P.E.C.T.R.E. honey-traps of filming Bond and Tatiana Romanova in bed in From Russia with Love are also inspired by Fleming's original novel, but also the gossip-column interest in the likes of JFK and Marilyn Monroe. Incidentally, the only time a photographer caught JFK and Monroe together was at a party at Arthur Krim's Manhattan townhouse. Krim was that United Artists chief who greenlit Bond.
One could also almost suggest that Jackie Kennedy's spousal and coutured fame paved a certain path for the very institution of the onscreen Bond Girl. Despite easy criticisms thrown at the sexism of early Bond women, these were always sharp characters with international linkages, jet-set wardrobes, dangerous husbands, hotel lobby intrigue and dangerous affairs of the heart. They also operated in a world of secret recordings and surveillance. It is Jackie Kennedy's fashions that are all over Dr. No and From Russia with Love – as well as the realization icons like her created an audience hunger and centre-spread fascination for designer clothes and international glamour. In 1989's Licence to Kill Carey Lowell's Pam Bouvier and her alias Ms. Kennedy are nods to Jacqueline's first two surnames. It is telling that we first time we are presented with the real [Bond Girl] Pam is when she sports a designer look. Beforehand, it has wilfully been a bad wig and frumpy day-wear so we later get that Jackie-O reveal.
'This is as significant as when man landed on the moon… I'm a real fan of Obama because I like his political ideals.'

Daniel Craig discussing the newly elected President Obama in 2008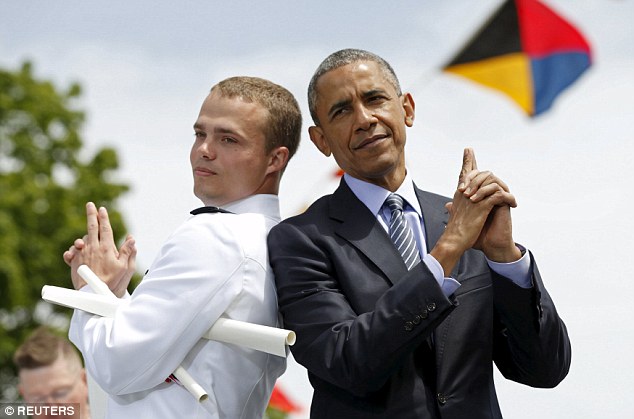 Moving onwards, President Obama was and is a big pop-culture fan. Perhaps those mentions of worthy and cool titles are less the headline or Sunday papers feature they were in Kennedy's day. When visiting Halloween kids came to the White House for Obama-era parties, he knew all of their Ghostbusters, Star Wars and Marvel costume choices. Perhaps the first President since JFK to be both so attuned to youth culture and also be one of its icons, Obama's tenancy was very attuned to the arts and the movies. The likes of Steven Spielberg, Tom Hanks, Bond's Alicia Keys and Bono, George Clooney and Meryl Streep were regular pals of Pennsylvania Avenue. Movie nights in the Family Theater would often be in the presence of those on the screen. Whilst no records attest to President Obama watching Bond films, he has called upon Bond world more than once.
In 2014, Daniel Craig joined a White House awareness campaign around rape and sexual abuse. A recurring cause for the Obama administration, President Biden appeared on the 2016 Academy Awards telecast to introduce a Best Song contender performed by Lady Gaga and from the documentary The Hunting Ground. Despite the Vice-President's introduction, Gaga's song went on to lose to Sam Smith's Bond song 'Writing's on the Wall'. President Obama would host many events highlighting and celebrating black history and culture. One such 2014 event was Women of Soul: In Performance at The White House – a PBS concert celebrating all women's contribution to music. As well as Bond's Patti LaBelle and many big names, artist Janelle Monáe stepped onto the East Wing stage to pay tribute to Shirley Bassey and how 'she owns every song she sings.' The Obamas nodded and smiled agreement at the high camp brilliance of that particular Bond anthem.
And whilst it is not known whether or not President Trump watched a Bond film during his one-term presidency, due to timings, replaced directors and pandemics he became the only Commander in Chief since the onscreen 007 emerged in 1962 to not witness a new Bond film theatrically released during his tenure. He did however pay tribute to the passing of Sir Sean Connery – where a typical tweet saw one keen golfer remember another.
When President Biden took on the presidential role, he got an early tweet of congratulations from fellow Irish boy, Pierce Brosnan. And perhaps the greatest Special Bond connection with Biden was one linked less to 007 himself, but to Bond's production house, EON.
To mark Black History Month in February 2023 and a film that Bond producer Barbara Broccoli was partly responsible for, EON Productions' Till (2022) was shown at the White House in the East Room. Producers Barbara Broccoli, Frederick Zollo and Whoopi Goldberg were in attendance as President Biden reinforced the importance and validity of a raw, but necessary motion picture to a packed house. Joining them were Till actors Danielle Deadwyler and Jalyn Hall, director Chinonye Chukwu, co-writers Michael Reilly and Keith Beauchamp, additional members of the Till family, Jennifer Salke (head of Amazon MGM Studios), Mike Hopkins (SVP, Prime Video and Amazon Studios) and Julie Rapaport (head of Film, Amazon Studios).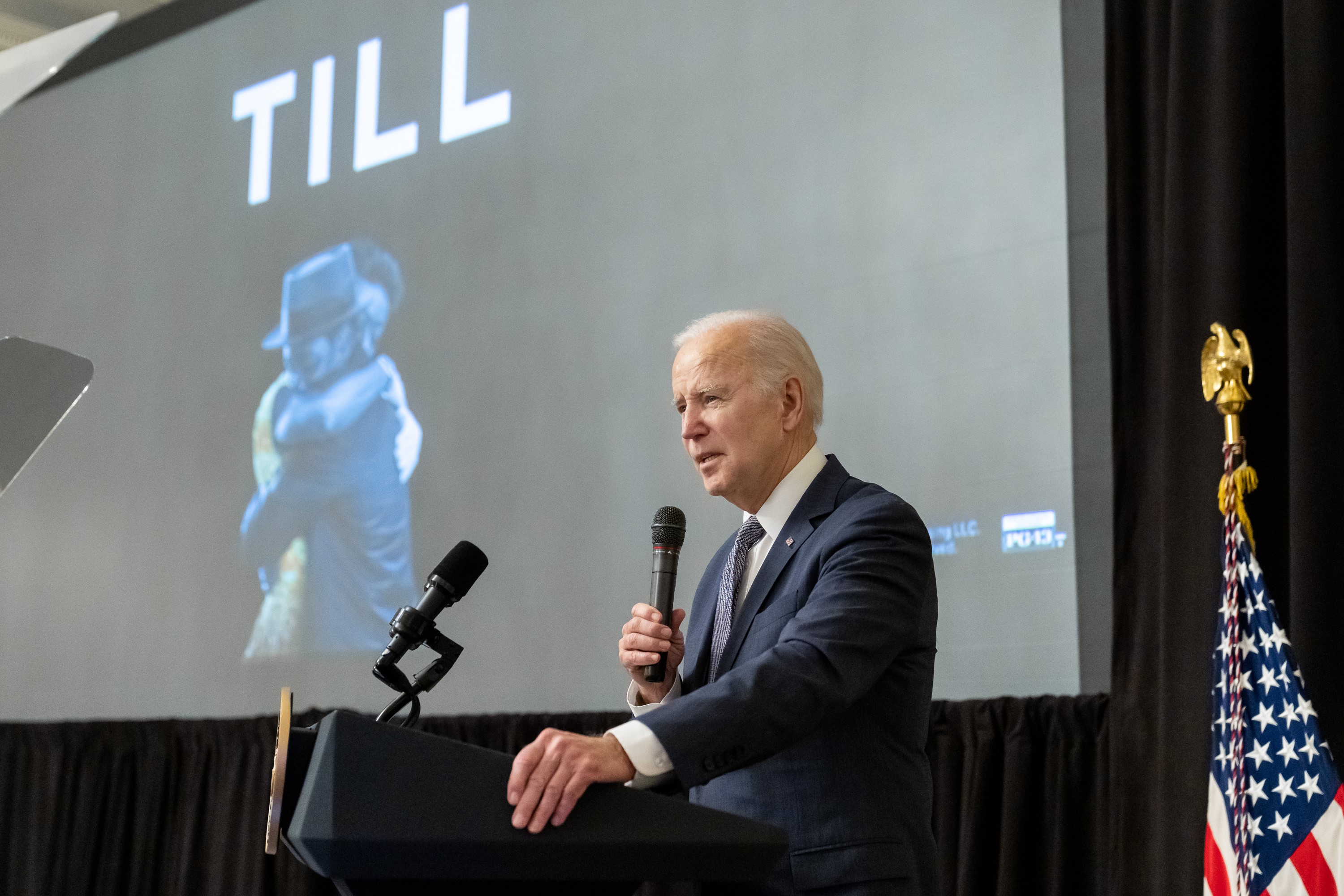 "And now, from the White House, during Black History Month, it's my honor — and it is a genuine honor — maybe the greatest honor I've had since I've become President — my honor to introduce the film, Till. God love him."

President joe biden, february 2023
"To everyone involved in this film, to paraphrase Maya Angelou: People will never forget how you make them feel."
Biden also shares one trait with our man James. Both love to wear an Omega watch – just as John Fitzgerald Kennedy once did when he was in the job. And right now President Biden is an even more important American to Bond than CIA pal, Felix Leiter. Biden not only has been helping steer a post-pandemic country, economy and entertainment scene, he also has to reunite a country gripped in the most divisive binary dilemma since 'Connery or Moore?'… to Make America Bond Again.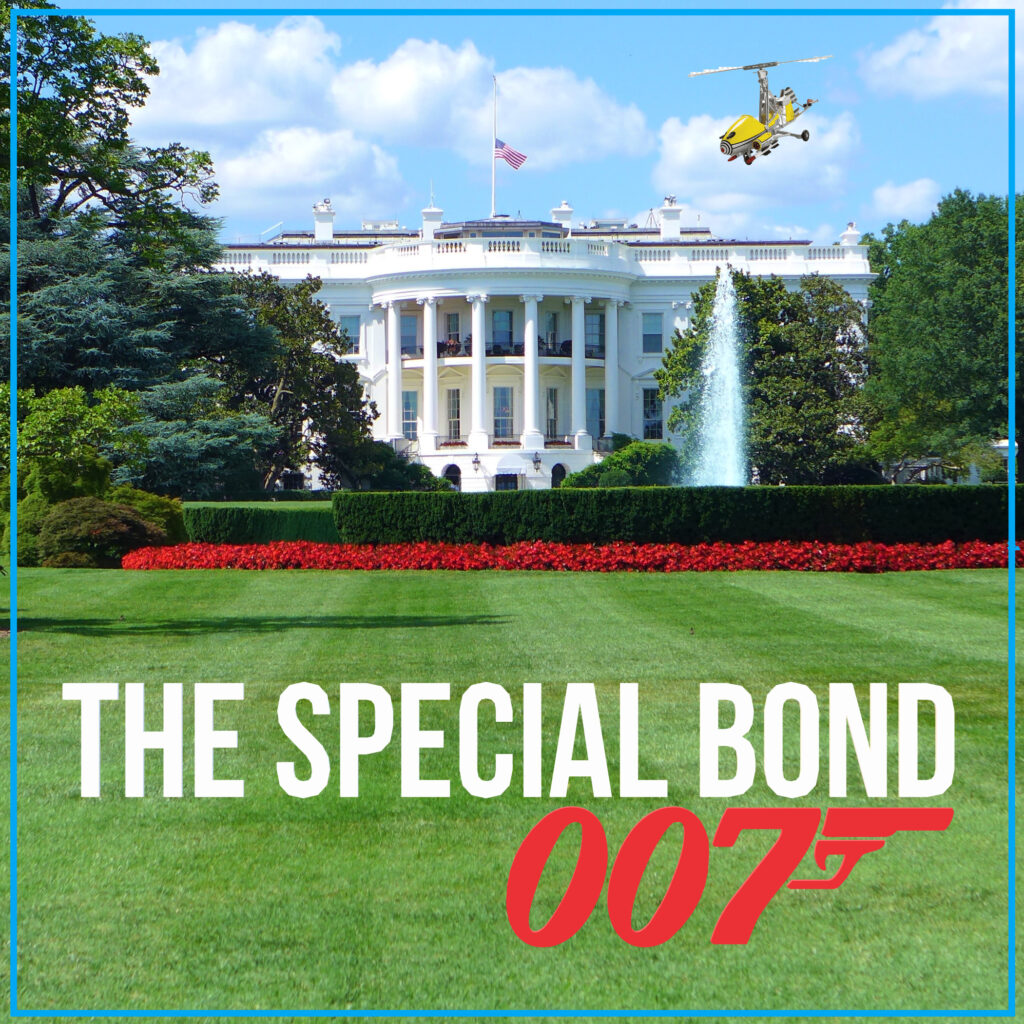 Mark O'Connell is the author of Catching Bullets – Memoirs of a Bond Fan
Sources:
'First Audience', Washingtonian, February 2011
'Heart of an Assassin – How Daniel Craig Changed James Bond Forever' by Sam Knight, GQ (April 2020)
'Movie Night at the White House: A Century of Screenings, Decoded' by Matthew Sweet, The Economist (October 2020)
'Stevan Riley talks about James Bond doc Everything or Nothing' by Geoffrey McNab, Screen Daily (September 2012)
The Jimmy Carter Presidential Library & Museum
The Novak Archive / Matt Novak
The Ronald Reagan Presidential Library & Museum
'The Presidential Bond Wagon', The Washington Post by Tom Shales (May 1983)
'The President's Voracious Reading Habits' by Hugh Sidey, Life (March 1961)
What Nixon Saw and When He Saw It by Mark Feeney
When The Snow Melts – The Autobiography of Cubby Broccoli with Donald Zec