'I've never been to the Milton Keynes ski rink!'
One Controller.
One million pounds.
Nine pairs.
As 007 – Road to a Million readies into its starting blocks, the full trailer, imagery and vibes suggests that Bond fun will have all the Prime in the world! From emergency nurses and retired police officers, youth community workers, a father and son, an intrepid married couple travelling the world, a fraud analyst, and a process engineer, two best pals from Jamaica, two radio presenter colleagues and more, 007 – Road to a Million has thrown together nine diverse pairings to take part in a Bond inspired caper worthy of Commander Bond himself.
'The genesis of the idea came from David Glover, CEO of 72 Films, who envisioned a unique blend of unscripted adventure and cinematic storytelling. 72 Films pitched the concept to Dan Grabiner at Prime Video who suggested a collaboration with EON to infuse elements from the Bond franchise. We loved the concept as well as the creative team behind the project.

This series is designed to appeal to everyone, whether or not they're aficionados of the Bond universe. It's an adventure in stunning locations with genuine human emotion. While Bond fans will enjoy the nuanced references and Easter eggs scattered throughout the series, the uninitiated will find an equally engaging narrative that celebrates universal qualities such as ingenuity, resilience, and camaraderie.'

barbara broccoli, executive producer, 007 – road to a million
Brian Cox's 'The Controller' has hidden ten questions around the world for each pairing. To reach these questions, the pairs face Bond-inspired challenges, which push their physical strength and mental reserves to the limit. Each question is worth an increasing amount of money, and if answered correctly, they bank the cash and continue to the next question. If they get it wrong, their journey is over.
Amazon Studios are all about new adventures and projects when it comes to Commander Bond. Their buy-out of the MGM studio and catalogue – which includes Bond – was Amazon's second biggest purchase after it famously paid $13.7B in 2017 to acquire the US food chain, Whole Foods. A larger wedge of that price tag Amazon has paid will be wearing a sixty-year-old tuxedo. Make no mistake. Amazon did not buy MGM to get its hands on Sherlock Gnomes 2. The commercial options alone to pop a '007' logo and BOND 26 on every cardboard parcel hitting every doorstep on the planet is a more tantalizing prospect for Bond's optics than MGM's mere 2.1m Twitter followers (or even Marvel Entertainment's 14m). 007 – Road to a Million is the first collaboration project off that starting grid. It is also the first sidebar production of a new vital era for Bond. As much as 1972 or even 1997 memories of catching Bond movies at the two-screen Odeon are the warm underpinning of a great wedge of 007 fandom, the franchise needs to move forwards too. And part of that involves attracting newer, younger audiences who only know of Bond from spinning No Time to Die DB5s on their cell phone ad walls. It is also fun. Remember fun?!
Amazon Studios & Prime Video buy-out MGM and the 007 franchise for $8.5 billion
Executive Producer Barbara Broccoli and star Brian Cox talk about a new era for the Bond world at the show's November 2023 London premiere.

'He's the greatest. Brian Cox is on top of the world. He actually would have made a great Bond, I have to say. He would have been a GREAT Bond.'

– Barbara Broccoli

'I thought this may be my big moment to play a Bond villain. I've always wanted to play a Bond villain.'

– Brian Cox
'007 – Road To A Million is an audacious blend of adventure, intelligence, and glamour which is an intrinsic fit for us. The show doesn't just offer a thrill ride; it provides real people the opportunity to tap into their own resourcefulness, wit, and daring in high-stakes situations — qualities that are quintessential to Bond. We love the idea of giving a once-in-a-lifetime adventure to the people who make up our audience. Moreover, we wanted to craft a series with the high production values that audiences have come to expect from Bond films.'

gregg wilson, executive producer, 007 – road to a million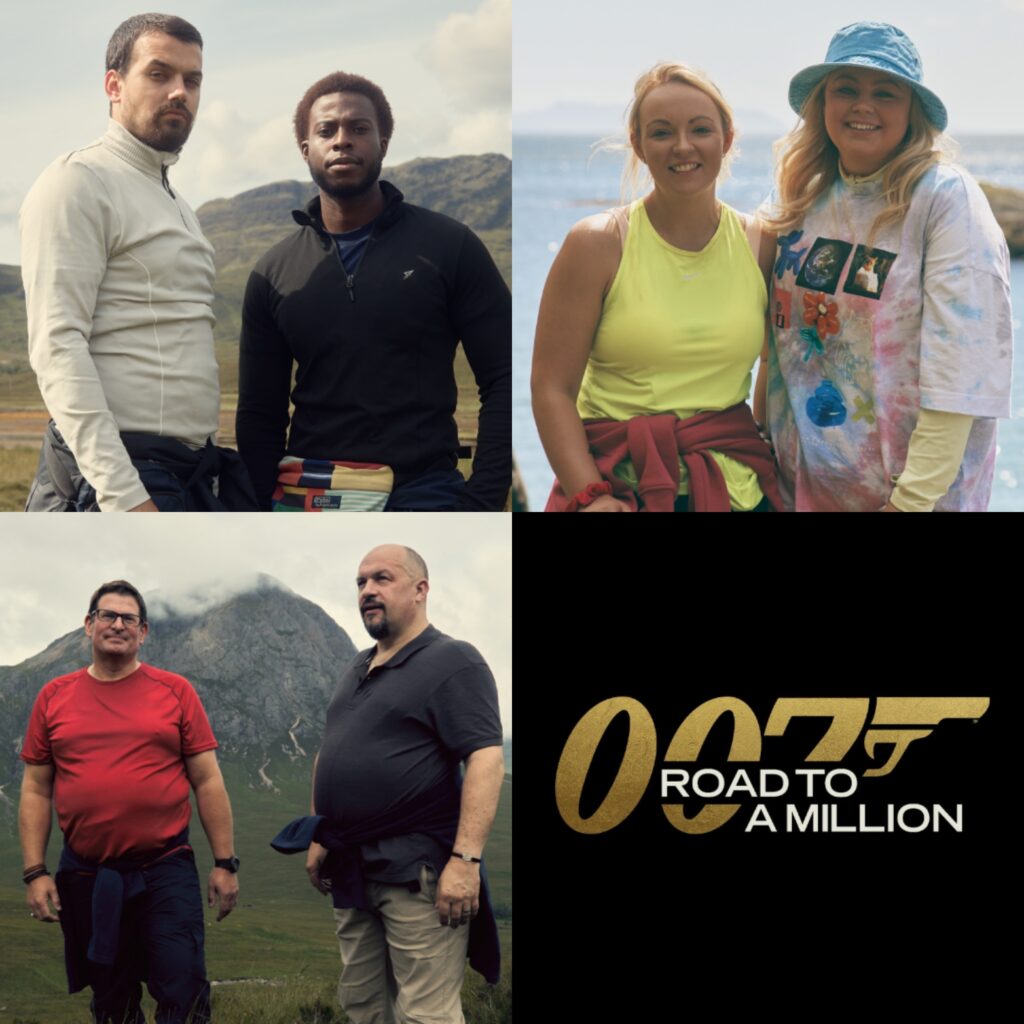 'We wanted to make a documentary that felt like a movie.

Something we were adamant about from the get-go, is that we were going to shoot it anamorphic – in other words, a wide-screen aspect ratio so it has the look of Bond. We wanted to make a documentary that felt like a movie and that's very challenging when you have to follow your contestants over mountains. Those cameras are usually used in drama which is very controlled: you can tell your protagonists to walk here, say this, do that.

But documentary is not controlled. It was very important to us not to interfere with what the contestants were doing. It needed to feel authentic, so we had to find a way to use those cameras at the same time as being as nimble as possible.'

julian jones, director, 72 films
From the Bond producers and Amazon Studios and filmed across the world, the eight part 007 – Road to a Million launches exclusively on Prime Video in over 240 countries and territories on 10 November 2023.
AMAZON MGM STUDIOS PRESENTS
A 72 FILMS PRODUCTION


IN ASSOCIATION WITH
EON PRODUCTIONS


EXECUTIVE PRODUCERS
MICHAEL G.WILSON
BARBARA BROCCOLI
GREGG WILSON AND
DAVID GLOVER


EXECUTIVE PRODUCERS FOR MGM
DOM BIRD
BARRY POZNICK


CO-EXECUTIVE PRODUCERS
JOHN DOUGLAS
DOMINIQUE FOSTER


SERIES PRODUCER
BEN ALLEN


PRODUCTION EXECUTIVE
KAREN HUDSON


SERIES DIRECTOR
JULIAN JONES
Prime members will be able to watch all episodes of 007 – Road To A Million anywhere and anytime on the Prime Video app for smart TVs, mobile devices, Fire TV, Fire TV stick, Fire tablets, games consoles, on Virgin's V6 TV Box, the TalkTalk TV set top box, Sky Q, Apple TV, Chromecast, BT TV, or online at www.amazon.co.uk/primevideo.