When Jimmy O'Connell took a job as chauffeur for 007 producers Eon Productions, it would not just be Cubby Broccoli, Roger Moore and Sean Connery he would drive to James Bond – his grandson Mark swiftly hitched a metaphorical ride too.
In Catching Bullets: Memoirs of a Bond Fan, Mark O'Connell takes us on a humorous journey of filmic discovery where Bond films fire like bullets at a Thatcher era childhood, closeted adolescence and adult life as a comedy writer still inspired by that Broccoli movie magic.
Catching Bullets is a unique and sharply-observed love-letter to James Bond, Duran Duran title songs and bolting down your tea quick enough to watch Roger Moore falling out of a plane without a parachute.
"Catching Bullets is a wonderfully funny and touching memoir"

BARBARA BROCCOLI, co-producer of the Bond films
Prelude by Barbara Broccoli
Foreword by Mark Gatiss
Afterword by Maud Adams
"Cubby would be proud"

BARBARA BROCCOLI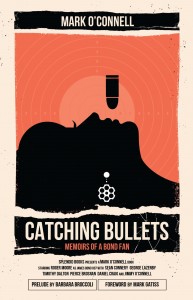 ★★★★ TOTAL FILM

★★★★★★★★ STARBURST

★★★★ WHATCULTURE!

★★★★★ CULTBOX 

SHORTLISTED – POLARI FIRST BOOK PRIZE
"A defining Bond work"

COMMANDERBOND.NET
"A wholly original take on a subject that has been written about so many times"

WHATCULTURE!
"Deeply moving… O'Connell's funny memoir feels like an incisive and quirky love letter to all things Bond."

ADVOCATE.COM
"An absolute treasure trove for fans of the genre"

TALK RADIO
"FUN, PASSIONATE AND ODDLY MOVING, A MEMOIR THROUGH MOVIES… I've read more reviews and essays on the Bond films than I care to admit, but Mark's passion for (most of) the films and life in general helps this book tremendously. He knows not just about 007, but he knows how to write it down cleverly….The Bond series has been honored in print many times. Many are large, coffee-table volumes packed with lovely images. Others are serious, academic analyses. There are biographies of key players, production histories and wise-cracking pocket guides. All have their place… But Mark's book stands out for its unique link to the notion of growing up with Bond, of finding your own journey while embracing a hero of your youth. Some anonymous author opining about the virtues of some 80s Bond film can be generic. When one understands the emotional vulnerability of the child who viewed it, and the sense of escape that film offered, it ceases to matter whether you, the reader, enjoyed it or not. When the story is well-told, you understand it."

JOHN CORK

(co-author James Bond: The Legacy, Bond Girls Are Forever & the MGM/UA DVD 007 documentaries)
"A bold and charming move that suits the relaxed tone and makes for an enjoyable read"

CULTBOX
"Adore hearing a charming, witty, passionate queer voice not filtered through booze and clubbing tropes"

VERASPHERE
"Extremely witty, nicely dry but also very warm…It's a tale then of a life as a Bond fan lived, with all its glorious highs and (semi-)disastrous lows, with which any and every 007 enthusiast will surely identify… the tale of being a Bond fan by a Bond fan that surely no Bond fan should be without"

MI6-HQ.COM
"All in all I think this book has a wider appeal than just the 007 community as it is about much more than the James Bond films….If you don't have it in your library already, go and buy it now. You won't regret it."

THE JAMES BOND DOSSIER
"I was intrigued by the concept of the book…but I thought it would be extremely difficult to pull off, even for an excellent writer, mainly because I have a bias against opinion pieces. Why would I want to know what another Bond fan thinks of the films? … But this totally changed my mind on that. The reviews of the films are absolutely superb, and the balance of having those and the personal story works more brilliantly."

JEREMY DUNS (author, The Paul Dark Trilogy)
"Well done on the magnum opus"

ROBERT WADE (co-writer of seven Bond movies including Bond 25)
"An innovative approach which actually shows the passion of a fan for the character of the saga – a passion which led him to meet up with current producer of the series Barbara Broccoli"

JAMESBOND-FR.COM
"…his book isn't just memories of a Bond-flavoured childhood; O'Connell also evaluates each film (in the order in which he saw them, uniquely) with wit, charm and the expertise that comes from eating, sleeping and breathing Bond for over thirty years… it's a sweet, charming and occasionally hilarious trip down memory lane and a refreshing addition to the endless stream of officially-sanctioned collections of plot synopses and lists of gadgets that make up most Bond books."

NEIL ALCOCK / THE INCREDIBLE SUIT
"Loved it"

AL MURRAY
"The Fall's best Bond bet"

ADVOCATE.COM
"Well-written, thoughtful and intelligent, Mark's book, with a foreword by long-time fan Mark Gatiss and an afterword by Maud Adams herself, is likely to jog memories as well as provoke passionate debate. Perfect bedside reading and just the right book to remind us all why we fell in love with Bond, James Bond, in the first place"

STARBURST
"He's cool, he's good and he sure knows how to write."

GSCENE
Available now from Amazon and direct from www.splendidbooks.co.uk (where signed copies are available) and all good print and e-book stockists.