WATCHING SKIES – MEDIA COVERAGE ACROSS THE GALAXY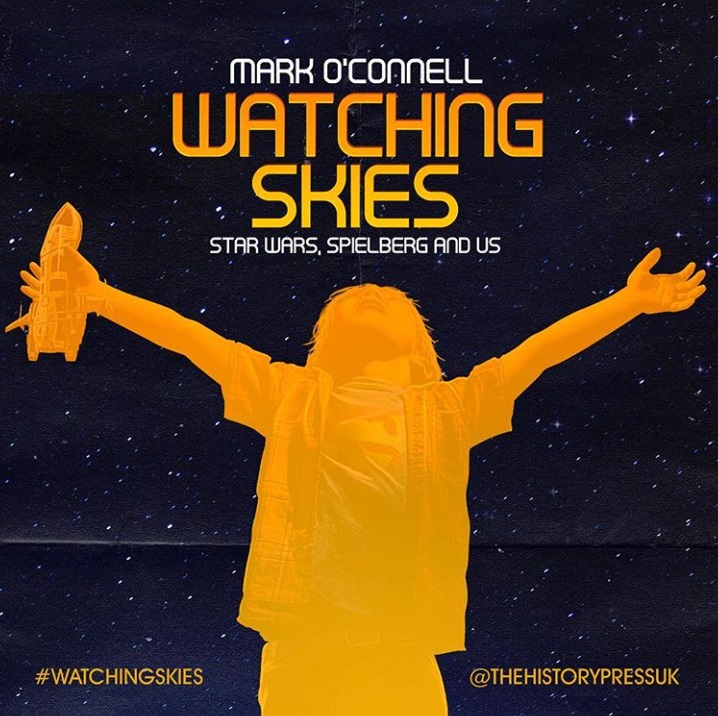 For more on Watching Skies – Star Wars, Spielberg and Us
"Love the era of Jaws, Star Wars and Ghostbusters? This book is for you. Remember Look-In, CHiPS and the Why Don't You gang sitting awkwardly on hay bales? This book is so for you."

★★★★ TOTAL FILM
"There's never been a more perfect storm in pop culture, and O'Connell encapsulates this beautifully in a book that is a love letter to the era, and a reminder of just how lucky we were to have lived through it. "
★★★★★★★★ STARBURST
"It's a wonderful rallying point for the Star Wars generation, a book dripping with nostalgia for a genuine golden age of movies. And Superman IV." – SFX
"O'Connell brings readers to a prequel… a prelude of enviable and commendable prose typifying the importance the films of Lucas and Spielberg held on a generation… Watching Skies is another love letter to the cinema of the Seventies/Eighties, written with O'Connell's excellent command of the English language. He writes with wit and repartee…" – WE ARE CULT
"It manages to both be an insightful, fascinating analysis of one of the most interesting points in American cinema and culture of the 20th century while at the same time feeling at times almost like a personalised diary" –  
FILM '89 talks to Mark O'Connell and chats STAR WARS, WATCHING SKIES, losing Luke Skywalker on holiday, favourite movie trilogies, why the '80s nostalgia is so prevalent, wish-list movie locations, favourite Spielberg movies, watching FLASH GORDON in a redwoods gay bar and what is the best STAR WARS movie…
Mark O'Connell joins the MOVIEFILM PODCAST's Zaki Hasan and the Nostalgic Theatre strand to talk Spielberg and what he accomplished with E.T. The Extra Terrestrial, Star Wars new and old, toxic fandom and the dangers of fan ownership, what did and didn't work in Solo and all our VHS galaxies that WATCHING SKIES remembers throughout its pages…
THE GEEK OF STEEL's Luke Bugg gets all Lois Lane as he interviews Watching Skies' Mark O'Connell about why Superman: The Movie is still a landmark movie, cherished toys, what we would change if we had a DeLorean and the geeky movie-mad things we are all guilty of as kids, and still are… 
Mark O'Connell talks to the great Spielberg-minded AMBLIN ROAD site about the possible reasons we are in the midst of an '80s revival, what could be Spielberg's best film, what are his cinematic legacies and the thinking behind WATCHING SKIES…
"There are many books that go into detail about Star Wars, Jaws, Close Encounters and Indiana Jones, but few really portray how those pieces of media can influence and change someone's life… The book is both personal and universal, in that we've all allowed our favorite pop culture moments to shape who we are and how we experience the world around us." – REVENGE OF THE FANS
"These films were new. But, so were we."

WATCHING SKIES talks to GEEK SYNDICATE about the nostalgia boom, those '80s tie-in novelizations and why 1984's Supergirl is basically a camp Almodóvar melodrama in spandex…
Mark O'Connell chats with BEAR WORLD MAGAZINE and editor Robin Gray about '80s cinema, this current wave of retro-nostalgia, Bond movies, Maud Adams, best Bonds, his previous book Catching Bullets, '80s Star Trek movies and the genesis project that led to WATCHING SKIES…
"Mark O'Connell is a connoisseur of all things geek culture… "

LOGO TV features an exclusive excerpt from 'Darth Becomes Him', WATCHING SKIES as the book hits the US…

(US audiences only)
Talking with MEANS HAPPY and Gareth Johnson about how WATCHING SKIES came about, childhood crushes on sci-fi heroes, the possible lures and freedoms of sci-fi for LGBT audiences, prequels, sequels and first seeing Star Wars…
"This book is a finely researched and highly informative examination of Spielberg, Lucas and their associated projects… Balancing the biography and film criticism with ease, Watching Skies is a warm, witty and insightful love letter to all the lonely imaginative kids out there..
WATCHING SKIES talks to SET THE TAPE and Tony Black about good Eighties cinema, the galaxy of movies that emerged from 1982 and what inspired and continues to inspire WATCHING SKIES… 
"We rather liked Mark O'Connell's Bond-fan memoir Catching Bullets. Watching Skies does much the same for the likes of Star Wars, Close Encounters and E.T. reminiscing about toys, videos, sticker album swaps and so on. " – SFX
STAR WARS JUNK's Darin talks to Mark O'Connell about Kenner kids vs Palitoy kids, the plastic fantastic memories of our childhoods, 80s toy stores, vintage lunchboxes, and 80s movie memories …
WATCHING SKIES' Mark O'Connell talks to the BBC's Danny Pike about all things STAR WARS, old movie theatres, our childhoods of Spielberg and Lucas, and whether these vital classics hold up for today's audiences…
(2 hours and 39 mins in)
"Mark O'Connell – whose first book, Catching Bullets, described his life as a James Bond superfan – revisits the other films and stories that so obsessed him during his childhood… tracing their impact not just on himself but on a whole generation of space-lovers and cinema-goers"  – RADIO TIMES
INDY CAST's Chris Allan talks  Indiana Jones, RAIDERS OF THE LOST VHS, Steven Spielberg, 1980s the best Indy movie, why CRYSTAL SKULL is okay, remembers lost poster designer Richard Amsel and ponders the possible story future for 2020's INDIANA JONES V…

(20 mins in)
WATCHING SKIES – STAR WARS, SPIELBERG AND US is available now.