As the Winter Olympics 2018 kick off in PyeongChang, it seemed apt to note James Bond's associations with the Winter Games, and in particular the work of Willy Bogner Jr. and the man who sold more ski holiday dreams than anyone – Sir Roger Moore.
German born, Bogner was himself a former Winter Olympian (having first taken part in California's 1960 Games in Squaw Valley and then 1964). Bogner not only choreographed and help photograph the pioneering ski scenes in 1969's On Her Majesty's Secret Service and subsequent Bond bullets, he also dressed Roger Moore in his alpine movies. Bogner's father – himself a 1930s Winter Olympian – set up the Bogner brand (clothing, accessories, events, corporate launches) and it is their ski-wear that Moore sports in his 1980s Bond movies. This is why Bond has a "B" on his zip (it does not stand for "Bond", alas – although it really should). The "B-zipper" is an icon of the Bogner brand and in 2002 Willy Bogner Jr. was invited to open the newly re-designed Brandenburg Gates in Berlin – where the world's biggest "B zipper" was hung from a hot air balloon (and no doubt accidentally tying in with the "B" of Brandenberg).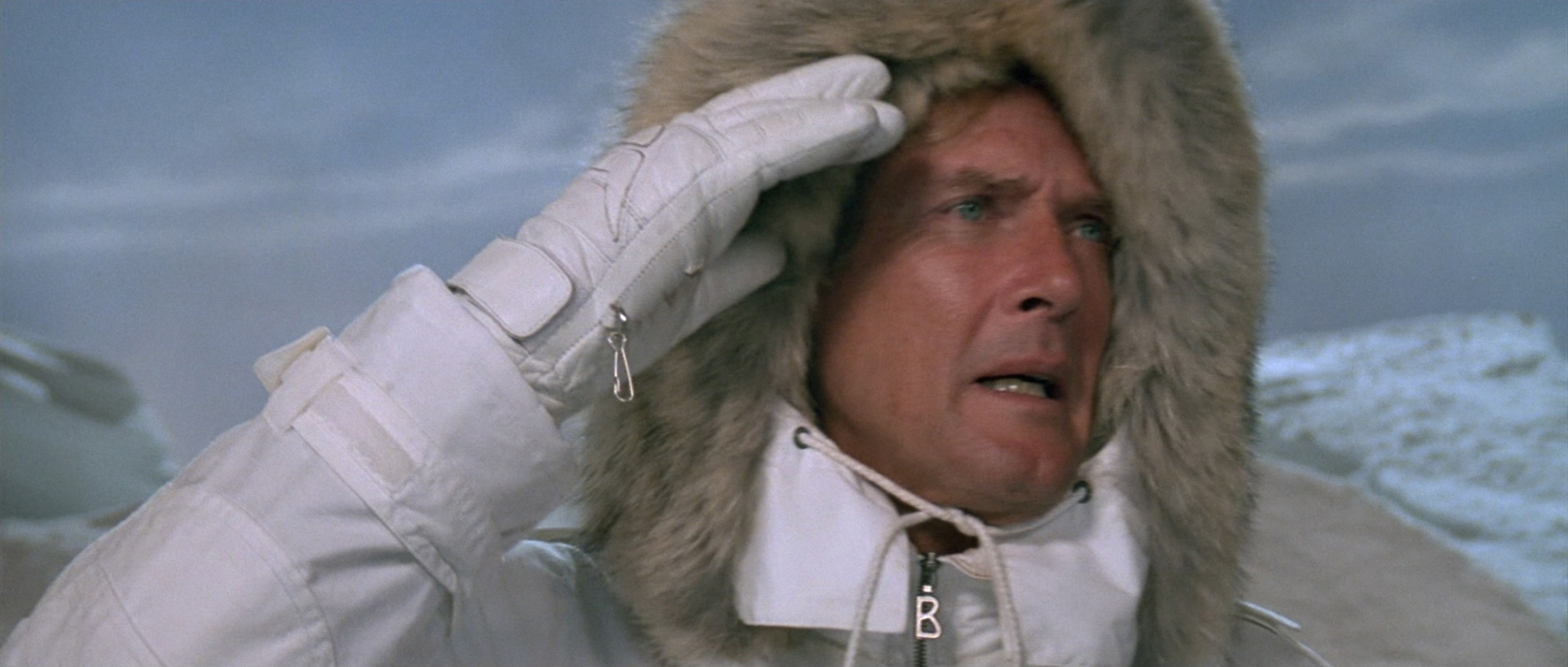 In 1990, Bogner Jr directed a highly '1990s' adventure romp called Fire, Ice and Dynamite – which was one of the first films to showcase extreme alpine sports which were less familiar to world audiences (just as contemporary skiing was to cinema audiences in the late 1960s – 1968's Downhill Racer being a notable exception). Fire, Ice and Dynamite also starred one Roger Moore as the head of the Megathon Foundation. In fact, if the Winter Olympics doesn't have this message from the late Sir Roger then I will do the luge in nothing but my pants (and not my best pants either).
Bogner Jr continued to produce and mount various film documentaries – including 1974's SkiVision – which clearly formed the forerunner for a lot, if not all, of Bond's ski work seen in subsequent films and title sequences (notably 1985's A View to a Kill, which was one of the first mainstream movies to depict snowboarding) as masterminded by Willy Bogner Jr. Cinema audiences memories and recollections of James Bond often involves 007 skiing. It is not used nearly as much as the detractors would suggest, but it is Bogner Jr who is predominantly responsible for those iconic blasts of action imagery (though not the copious usage of a snow Yeti – which Bond has yet to do).
Bogner Jr continues to spearhead his company, kitted out various Winter Olympic athletes, designed the official winter-wear for the German 2014 Sochi team and chaired the Munich 2018 Winter Games bid campaign. In 1964, Bogner Jr produced Ski Fascination – a glorious and very 60s documentary showcasing his choreography and skills at crafting new ways of filming ski action and winter sports. The film no doubt became a valuable calling card for the likes of Eon Productions when wanting to source someone to oversee the skiing work in OHMSS. It is also worth noting that the likes of 1969's OHMSS, brought alpine pursuits onto modern cinema screens. Until then the world's TV audiences had only really seen such events on black and white television every four years.
Bond and the Winter Olympics have met more than once, with the Games forming the backdrop of OHMSS , 1981's For Your Eyes Only (filmed at the location of the 1956 Games in Cortina d'Ampezzo and featured some good and bad ex and current Winter Olympians as characters) and 1999's The World Is Not Enough shot on location at Chamonix, where the first Winter Olympics were held in 1924.
But of course the Bond master of skiing and ski-wear was the late, great Sir Roger Moore. No-one rocked a canary-yellow ski-suit more than Roger. No Bond possibly sold more winter breaks than Roger.  Maybe someone somewhere can remember the man as they throw themselves down a luge run, ski jump, piste, curling arena or ice hockey match – because he was the master of them all! Somewhere in the universe, Sir Roger has already made it back to the lodge, has opened the fireside Bolly and is waiting for some help to fold that Union Jack parachute back into its backpack.