"This 7 year old wanted Ewoks and X-Wings not Roger Moore, that French bloke from Gigi and two rounds of Swedish actress crumpet poncing around colonial India. But for a very good reason my Dad was most insistent we saw Octopussy that June day – and his reasoning made so much more sense in the months, years and decades to come…."

catching bullets – memoirs of a bond fan
Forty years ago as plastic Return of the Jedi figurines, Superman III backyard play, WarGames and another Jaws movie were in the treasure trove of 1983's box-office, EON Productions premiered the thirteenth James Bond opus, Octopussy. It was the film that became a starting pistol to a blessed lifetime of catching bullets for this Bond fan, Maud Adams fixations, a deep love of John Barry, a life steered by Roger Moore, a fascination with production design, and the pop-cultural might of EON Productions and its 007 franchise.
As Indiana Jones and all things Indian dominated early 1980s box office and TV screens, Octopussy is a willfully, unusually timeless Bond film. Apart from the odd origami-minded fold-up jet, Sony monitor and Seiko timepiece, Bond '83 never feels particularly contemporary – with its émigré palaces, vintage cars, lush barges, hot air balloons, steam trains, elephant chases and rare, historical gems.
It is an Agatha Christie India stepping on the sari of the then raging Raj genre – evidenced in titles such as Heat And Dust, Gandhi and the imminent Jewel In The Crown, The Far Pavilions and A Passage To India. This Empirical setting seems a perfect fit for the Boy's Own colonial outpost that is James Bond himself. And with Flashman writer George MacDonald Frazer on co-writing duties, the Victoriana trappings of Octopussy may not be wholly culturally correct, but do make for a total vintage contrast to the tech-world story pulses of the two Bond bullets that flank Bond '83 – namely For Your Eyes Only (1981) and A View to a Kill (1985).
Despite the Boy's Own DNA of Octopussy, it is easily the most feminine 007 film entry to date. Like Octopussy's Island itself, the film is populated with women forming the beats of the story. From a young Cuban agent setting in motion Bond's pre-title break-out to an Ambassador's wife taking delivery of the plot coupon that is the Faberge Egg plus the shifting allegiances of Kristina Wayborn's lithe go-between Magda, Two Moneypennys (well, the real one and her Sloane-clone back-up, Miss Smallbone), a women's refuge housing umpteen sari-clad hench-women, a global PR push built on a rich band of support actresses including Bond veteran Carole Ashby who toured the world promoting the film, and a production that saw burgeoning producer Barbara Broccoli finally get a screen credit as she oversaw some of the set pieces, including the elaborate circus scenes – Octopussy has always been the property of many ladies. And the last of which is India herself and a set of locations that have barely changed to this day.
In the titular role, Maud Adams was instantly a Bond icon for this fan. And I was most blessed when the book that springboards off a love of Roger Moore and Maud saw those white dots go full circle with a meeting with Sir Roger Moore nearby to where this fan first saw the film, a kind wedding telegram, a top table named 'Octopussy' at a Pinewood Studios wedding, some eventful times in Los Angeles with the lady herself at the wheel (no barge alas) and an Afterword that was never even dreamt of.
Maud is deeply appreciative and proud of her double tenure in the Bond series. Having made a clear mark on the Bond producers in 1974's The Man with the Golden Gun, she was eventually invited back to initially help cast a new Bond actor (the studios and producers eventually settled on remaining with Roger Moore and his golden track record). Not only did Maud endear herself to leading man Roger Moore – who always went on record to claim her as his strongest, favourite leading Bond lady across his seven films – she continues to be a dignified and supportive ambassador for the franchise, a voice artist for documentaries surrounding the franchise, and one of a great fraternity of west-coast Bond actresses.
This bullet catcher is forever grateful for her support and camaraderie over the years. One top memory was a day in Los Angeles. A lunch near Paramount suddenly became a timber yard mission to source some new flooring for Maud's guest room in between taking in the former Beverly Hills home of the Broccoli family, some LA hints and a dog walk. As we wandered into one timber store, Maud's playful eyes settle on the counter and a pile of many buzz saws. We both grinned with a nod.
In the PR-created 'Battle of the Bonds' that dominated the movie press of 1983, Octopussy easily beat box-office rival Never Say Never Again . As I recently said to movie publication Little White Lies, Never Say Never Again proved it was never Connery or any lead actor as Bond who created that movie magic. Octopussy has a sense of original craft, fantasy, style, scope, presentation and swagger about it. Never Say Never Again always feels like a curious TV movie – re-dressing existing locations rather than building its own, swapping Europe's finest movie tailoring for Bond in a pair of ill-fitting dungarees and commissioning a score that sounds like a jazzercise session rather than the lush strings and brass of John Barry.
In the end, the better film won, with Octopussy taking $182 million at the global box office against Never Say Never Again's (still impressive) $159 million. However, the real winner of the confrontation was the showbiz press, who reveled in this battle of the Bonds. Connery and Moore were good friends. The 1983 'rivalry' was nothing more than a great, obvious piece of PR – with Never Say Never Again arguably, easily riding the coat-tails of Moore's momentum as Bond.
It was May 21 1983 when President Ronald Reagan watched Octopussy at Camp David – a few weeks before its June 6 1983 royal premiere in London. And his almost controversial endorsement did not harm Octopussy's success and visibility in the slightest.
Whilst Presidents getting early prints of new films is no new thing, Reagan's early Octopussy watch could well be because on May 27 1983 the British broadcaster LWT aired James Bond – The First 21 Years. Part celebration, part Octopussy promo, the hour long anniversary special was a veritable Concorde-fuelled Who's Who of 1983. Dean Martin, Frank Sinatra, Farrah Fawcett, Ali McGraw, Christopher Reeve, Gene Kelly, Henry Ford II, Burt Reynolds, Joan Collins, Bjorn Borg, Ernest Borgnine, Liberace, Glen Campbell and many more contributed to the 007 party. As did President Ronald Reagan. The former Governor of California and twice President of the Actors Guild, Reagan was of course Hollywood stock himself. And here he was extolling the virtues of 007, producer Albert R. Broccoli and Octopussy.
'I've been asked to state my feelings about a fellow named Bond, James Bond', starts Reagan in a filmed address from the White House. 'As I see it, 007 is really a '10'. He's our modern day versions of the great heroes who appeared from time to time throughout history. There were many like him in the past – pioneers, soldiers, lawmen, explorers, people who all went out and put their lives on the line for the cause of good'.
It soon transpired that White House officials and spokesmen were less than happy that Reagan's comments on camera may have been seen to be endorsing and promoting Octopussy – and that Reagan may have been duped into the appearance. Nevertheless, Ron was a big and apt coup for the documentary and Bond. And the film's anti-Soviet stance was hardly a negative for that era's White House subterfuge and Cold War intrigue.
'James Bond is a man of honor. Maybe it sounds old-fashioned, but I believe he's a symbol of real value to the free world. Of course, some critics might say that Bond is nothing more than an actor in the movies. But then, we've all got to start somewhere.'

President Reagan, James Bond – The First 21 Years, LWT, May 1983
Around that time Reagan and The White House also hosted a promo event for Superman III and the Special Olympics. It is such a shame we never saw Octopussy's Steven Berkoff in his Russian general costume stomping around the Rose Garden clutching a prawn vol-au-vent. Possibly for cross-party reasons, Reagan later watched Never Say Never Again at Camp David in October 1983 – where he also watched A View to a Kill (June 21, 1985) and The Living Daylights (July 24, 1987).
'Suffice to say as soon as we got our video recorder I would rent out Octopussy a lot. Usually on Saturdays and always with my pocket money. The garage staff eventually noticed and said something one day. I could probably have reimbursed the film's budget to Cubby myself with what I forked out on rentals. I even did my own pirating. Okay, I didn't copy the film via the normal modes of piracy. But I did record some of my favourite scenes onto an audio tape player to play back at my geeky leisure. I felt quite the criminal returning the hefty black-boxed VHS case (about the size of a flight recorder) knowing 60 mins of Octopussy dialogue had been shamelessly kept at my house on a TDK cassette. Guilt very quickly got the better of me and I wiped the evidence with David 'Kid' Jensen's radio Chart Show the following Sunday afternoon.

So my first year of being a Bond fan consisted of just one film – John Glen's 1983 sex and sari epic, Octopussy.'

CATCHING BULLETS – MEMOIRS OF A BOND FAN
In August 1982, EON Productions, director John Glen and leading man Roger Moore brought the Octopussy production to the infamous and always chilling Cold War mainstay, Checkpoint Charlie. "Here's the ID you'll need: Charles Morton, manufacturer representatives from Leeds, visiting furniture factories in East Germany." informs Robert Brown's brilliant 'M' as Bond is jettisoned through the Berlin Wall that was almost the same age as the 007 movie franchise.
And so a movie franchise that forever straddled the mechanisms, capers and contexts of a Berlin Wall divided Germany finally shoots on real Cold War, Berlin soil. Moore and Bond '83 shot against a western side Berlin and a false crossing line. For many years, Octopussy's association with the former border crossing continued in a curious sidebar.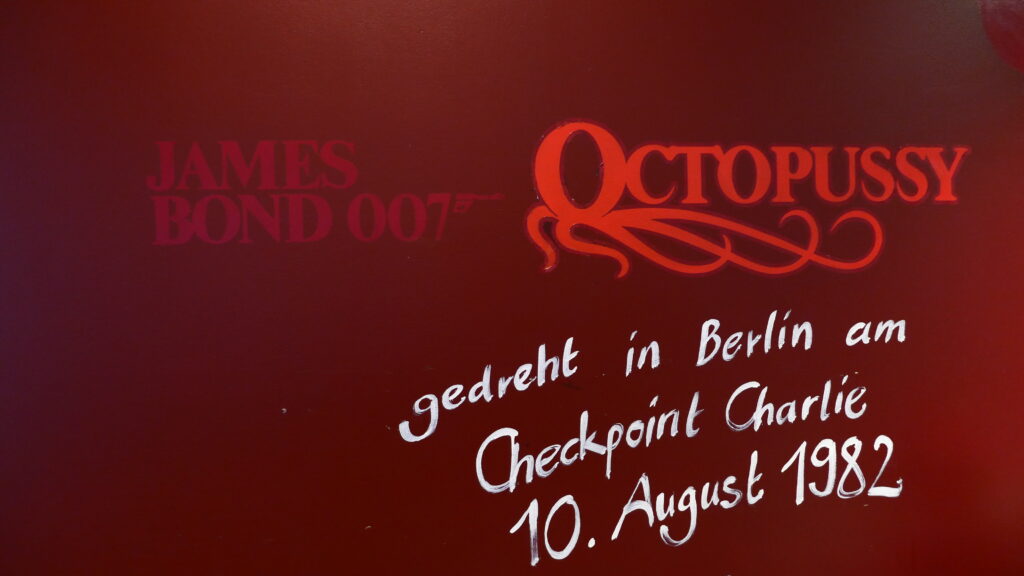 As a mock Checkpoint Charlie continues to be a haven for tourist selfies, alongside it for many years was an incongruous cafe shrine to Octopussy. Featuring German promotional artwork, headlines, imagery and faux props, the Back-Factory Bond haven was never massively promoted, but clearly proud of its celebration. There are rarely any permanent 007 installations so historically, cinematically and geographically cited as this Berlin coffee shop's Octopussy homage.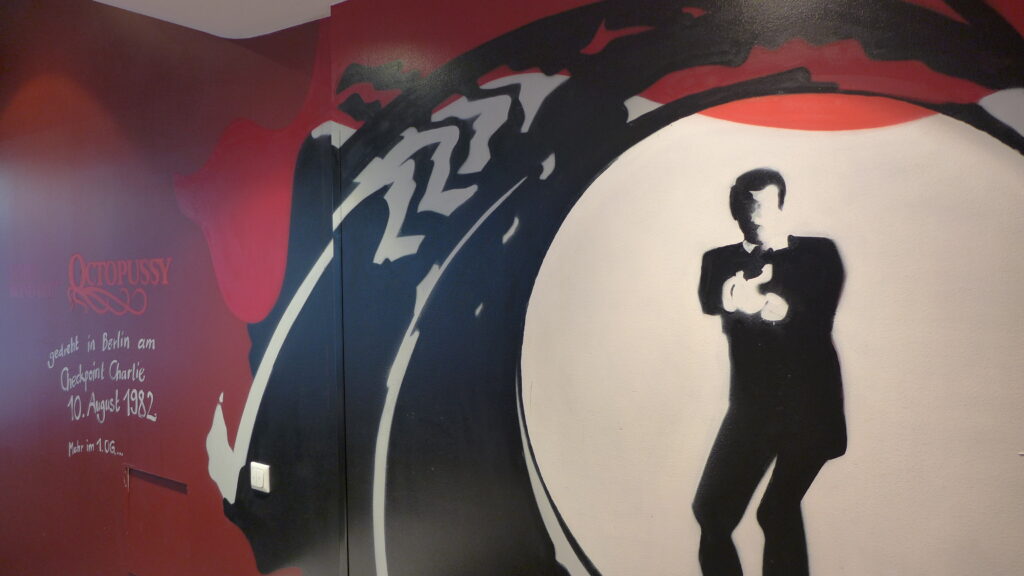 "Despite the Octopussy cereal-packet stickers featuring Moore as a clown almost putting me off 007 for life, his Fool in the third act is now one of the most arresting tics in the series for this fan. The jarring sight of Bond in clown garb panicking and trying to convince Bruce Boa's "U.S. General" and Octopussy that "there is a bomb in that cannon" beats with real anxiety.

There is something sinister and hyperbolic about the court jester trying to avert nuclear war (very Dr Strangelove) and hoping to be taken seriously (a bit like Roger Moore himself). We see faces of families and children, passing motorists, security guards and circus staff all about to violently perish as a bomb counts down under their feet.

Usually a Bond film's third-act peril is resigned to a villain's remote lair, boat, plane, volcano, airship (delete where applicable) where the only victims will be the Stuntmen's league and the poor soul who washes the orange boiler-suits at Pinewood Studios. But Octopussy shows the faces of its potential carnage. The jewellery caper is no longer a jaunt. This is an urgent beat the Roger Moore 007 films don't get nearly enough credit for."

catching bullets – memoirs of a bond fan
This bullet catcher chats to Matt Baume about the effect Octopussy had on this burgeoning Bond fan / My Grubby Dark Weekend Secret (Ep. 212 – James Bond) (mattbaume.com)
John Glen: Celebrating the 90th birthday of James Bond's most prolific director