"What I felt at that time [pre-Bond] – we're talking about '61 – was that I couldn't remember seeing a film that reflected the age we were living in"

Ken Adam
Although that was about to change. As was movie design, airport design, architetural design, car design, terminal designs and underwater killing machines design.
One of THE Bond movie pioneers and most influential and important production artists the movies has ever seen Sir Kenneth Hugo Adam has sadly passed away at… the age of 95. He won an Academy Award for The Madness of King George and was nominated countless times, though never got the Oscar for his Bond work. But that matters not when you witness the sheer scale of ambition, skill and glamour onscreen in the likes of You Only Live Twice, Goldfinger, Moonraker and The Spy Who Loved Me. Ken also was initial designer on Star Trek – The Motion Picture (then known as Star Trek – Planet of The Titans) as well as the final designer of great note on Kubrick's Barry Lyndon and Dr Strangelove and of course The Ipcress File, Chitty Chitty Bang Bang, Agnes of God, King David, The Deceivers, The Freshman, Sleuth, Addams Family Values and The Trials of Oscar Wilde (produced by Albert R Broccoli).
"He is in the tradition of those theoretical visionaries…his control of light and space and drama – these great caverns…. that's Ken. He's the architect

Norman Foster

(Ken Adam – The Spectre of Modernism, BBC Radio Four)
Ken Adam of course singlehandedly shaped the visual course of Bond from Dr. No onwards and whose legacy is all over every new 007 film, including 2015's Spectre. Adam also defined what 'modernity' looked like, and not just on the silver screen. Take a look through any number of post war design projects and Ken Adam's charcoaled fingerprints are all over them. His work is evident on the streets of Berlin, Japan, London and beyond.
I was fortunate enough to meet Mr Adam on a couple of occasions and the mind and talent was forever as sharp as those Sixties charcoal pencils. He recently attended the Spectre World Premiere and was also on hand in 2014 to team up with fellow Bond designers Peter Lamont and Dennis Gassner to help launch London's Bond In Motion exhibition.

One of my Bond fan – and life privileges – was to be able to meet Sir Ken after a great talk he did at the Edinburgh Film Festival. He spoke at length (one of his other great talents – storytelling) about Bond, Kubrick and the effect that partnership had in his health at the time, work ethics, materials, World War Two and his vivacious wife Letitzia.
His vision, his sense of material, placement, texture and tone was immeasurable. Forever in a dialogue of minerals versus man-made finishes or Palm Springs' lounge versus jagged death zones, Ken Adam is one of those few special creatives whose work imagining becomes the very reality he was ultimately never granted access to. Very real War rooms, open plan offices, Canary Wharf, Heathrow's Terminal Five, finance centres and any office block that has had too much money spent on it all owe a massive creative debt to Kenneth Hugo Adam.
With 1962's DR. NO, Ken Adam recalibrated Bond into a wholly visual and cinematic phenomenon before it even started. He helped steer the literary 007 into a celluloid movement that was as vital to movie design history as The Beatles were to popular music. Whereas the Fleming novels had a firm foot in a post-war 1950s, Ken Adam had an eye on beyond. One of the genius tics of his Bond work was how his sets, his gantries, his angled ceilings and mixed materials were a vital part of the visual exposition and transformation of the cinematic 007. Everything we need to know about Auric Goldfinger is not there in the dialogue, costume or plotting. It is there in a laser table – an edgy, cool visual device that saw Ken Adam allow everything about the Bond film template to fall into place forever more. His Bond work alone was futuristic without being sci-fi, opulent without being gauche and cool without ever ageing.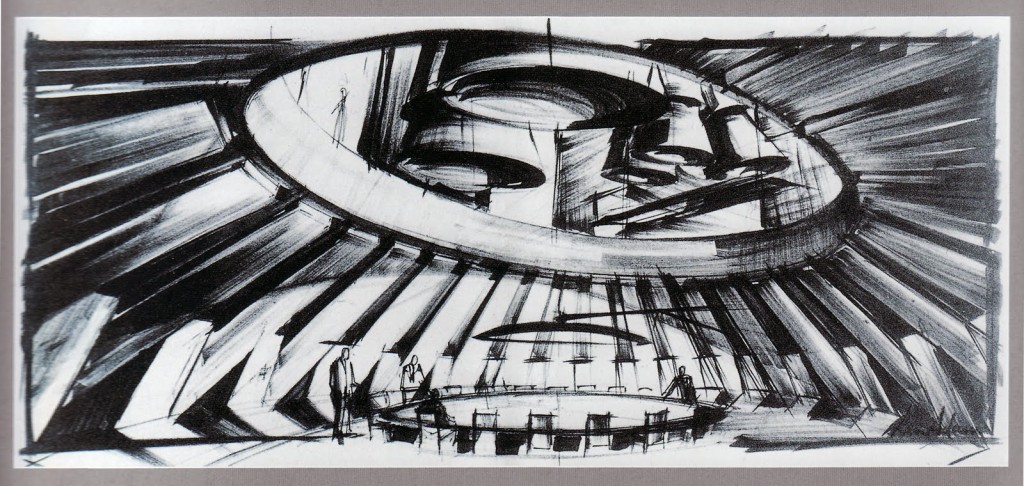 Rest in Peace Ken Adam.
A collection of Ken Adam documentaries, tributes and interviews :
Ken Adam – The Spectre of Modernity (BBC, 2014)
Ken Adam – Evacuating Nazi Germany