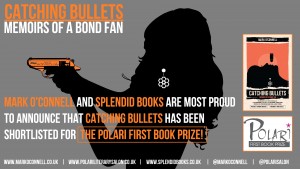 Splendid Books and I are more than proud to announce that CATCHING BULLETS – MEMOIRS OF A BOND FAN has been shortlisted for the POLARI FIRST BOOK PRIZE 2013.
Polari is a monthly literary salon held (more often than not) at London's Southbank Centre. Masterminded by author/writer Paul Burston, it is a queer / LGBT showcase of a brilliant rainbow-hued spectrum of writing, poetry, fiction, non-fiction, performance, works-in-progress, theatre and song.
Previous readers have included Jonathan Harvey, Celia Imrie, Damian Barr, Jake Arnott, Neil Bartlett, Rikki Beadle-Blair, Andy Bell, Sophia Blackwell, DJ Connell, Maureen Duffy, Stella Duffy, Fenella Fielding, Christopher Fowler, Patrick Gale, David Hoyle, VG Lee, David McAlmont, John McCullough, Will Self and many more. Oh, and of course yours truly (January 2013).
The POLARI FIRST BOOK PRIZE is an annual award to honour the best in LGBT writing. CATCHING BULLETS and myself never once imagined we would be rubbing shoulders with a range of very skilled books so are doubly chuffed to find ourselves on the final shortlist. The winner is announced on November 13th 2013 at the Purcell Room, Southbank Centre.
One of "the World's Best Gay & Lesbian Hotspots" for 2013! – ArtInfo.
"Lively, funny and inspiring – a gay-themed salon of interest to anyone remotely interested in literature, whatever their sexual bent. Paul Burston's achievement in consistently bringing together writers and performers who will stimulate and inspire is remarkable" – Patrick Gale
"Always fun, always thought-provoking – a guaranteed good night out" – Sarah Waters, Tipping The Velvet.
"London's most theatrical salon" – The New York Times
"London's peerless gay literary salon" – The Independent on Sunday
For more details about past, present and future Polari nights then head over to the website. The evenings are a great and relaxed showcase of good writing, creativity, thought and ideas. A bar and book store is always at hand as are great views of London at night, whatever time of year. Though be warned – Polari often sells out quick so get in early.
@Mark0Connell
@PolariSalon
@PolariPrize